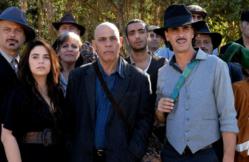 This year's line-up presents a diverse selection of films that highlight some of the most important, contemporary issues facing Israel and the world today.
Denver, CO (PRWEB) June 12, 2013
The Denver Film Society and the Mizel Museum present the third annual New Israeli Cinema, a month-long film series held annually in July. With the latest in the world of film from Israel, New Israeli Cinema will to engage and entertain film lovers from one of the world's most vibrant, prolific and expanding cinematic traditions. Screenings will take place Tuesdays at 7:00 p.m. and Sundays at 4:30 p.m. beginning July 2 at the Sie FilmCenter, 2510 E. Colfax, Denver. A question and answer session will follow each film screening. For film descriptions and schedule visit http://www.mizelmuseum.org/new-israeli-cinema-july-2013/.
Each film in this year's series has been featured at another major international film festival (Jerusalem, Toronto, London, New York City, Los Angeles, Berlin) and one film, Rock the Casbah, received the Art Cinema Award from the International Confederation of Art Cinemas.
Rock the Casbah will be celebrated at the "Tel Aviv Beach Party" immediately following the July 14 film screening on the outdoor patio at Udi's Pizza Café Bar, 2550 E. Colfax Ave., Denver, just around the corner from the Sie FilmCenter. "Tel Aviv Beach Party" tickets are $12 for DFS and Mizel Museum members; $15 for non-members, and include entrance to the film, one drink ticket, and Israeli snacks at Udi's. The party will include Israeli music, palm trees and paddle tennis. Udi's will also be open for full service dinner.
"This year's film line-up presents a diverse selection of five films that highlight some of the most important, contemporary issues facing Israel and the world today, including the diversification of Israel's population, exploring past conflicts, and struggling to stay relevant in a fast-moving society," said Brit Withey, artistic director with the Denver Film Society. "This year's New Israeli Cinema has something for everyone."
"What's especially interesting to me is that so many of the films coming out of Israel today seem to highlight events in Israel's past," said Georgina Kolber, Mizel Museum's curator of exhibitions, collections and programs. "I don't think the filmmakers intend to create historically accurate timepieces, rather they are employing film as a vehicle for collective working through of the past; they are suggesting to us film viewers that Israel's future depends not on world leaders, but on our navigating the past, present and future."
Kolber agrees with contemporary Israeli filmmakers that there is no better vehicle than film for understanding and navigating through the global issues we face today.
Tickets are $7 for Mizel Museum and Denver Film Society members; $10 for non-members. Series passes are $30 for Mizel Museum and Denver Film Society members; $35 for non-members. For complete film descriptions visit http://www.mizelmuseum.org. Purchase tickets http://www.denverfilm.org. For more information contact Georgina Kolber at gkolber(at)mizelmuseum(dot)org or (303) 749-5014.
About Denver Film Society
Founded in 1978, the Denver Film Society (DFS) is a membership-based, nonprofit cultural institution that produces film events throughout the year, including the award-winning Starz Denver Film Series (35th season) and the popular, summertime series Film on the Rocks (13th season). With a vision to cultivate community and transform lives through film, the Film Society provides opportunities for diverse audiences to discover film through creative, thought-provoking experiences.
The permanent home of the DFS, the Sie FilmCenter, is Denver's only year-round cinematheque, presenting a weekly-changing calendar of first-run exclusives and art-house revivals both domestic and foreign, narrative and documentary—over 600 per year, all shown in their original language and format. DFS's one-of-a-kind programs annually reach more than 200,000 film lovers and film lovers-in-training. For more, visit http://www.denverfilm.org.
About the Mizel Museum
The Mizel Museum's mission is to build bridges of understanding between diverse people by engaging, honoring, educating and inspiring through the intercultural arts. Fine art, film, literature, drama, music, and technology offer interactive experiences that promote community, understanding and multiculturalism. The Museum is located at 400 S. Kearney Street, Denver, where visitors can tour the permanent exhibit, 4,000 Year Road Trip: Gathering Sparks, a dynamic journey through art, artifacts and digital media that narrates and illuminates Jewish history and culture. For more information, visit http://www.mizelmuseum.org or call (303) 394-9993.