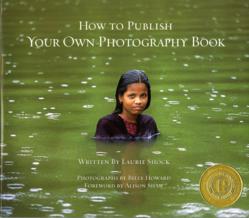 Shock Design Books is a small, Atlanta-based, independent publisher and producer with a focus on custom, finely-crafted books.
ATLANTA (PRWEB) June 13, 2013
Shock Design Books received eleven national and international awards for three of its recently published books, including How to Publish Your Own Photography Book, described as a personal publishing workshop for professional photographers. The book is available for purchase through Amazon, Atlanta Showcase Photo & Video, other Atlanta local retailers, and the author's website.
Additionally, the Council for the Advancement and Support of Education (CASE) awarded Billy Howard and Laurie Shock two Grand Gold CASE District III Awards in the writing and design categories for their book, 150 Years Ravenscroft: Young Travelers on the Path of Knowledge. The anniversary book, written by Billy Howard and Laurie Shock, showcases Howard's photographs and Shock's design and won two other CASE awards; an Award of Excellence in the photography category and a Bronze CASE Circle of Excellence Award in the Design category. The book also won a Benjamin Franklin Gold Award in the Large Format Book Cover Design category; a Benjamin Franklin Silver Finalist Award in the Large Format Interior Book Design category, and a Silver IPPY Award for Best Regional Non-Fiction in the Southeast.
About Shock Design Books:
Shock Design Books is a small, Atlanta-based, independent book publisher and producer with a focus on custom, finely-crafted books. Principal and owner Laurie Shock has designed and produced over 200 books, including A Century of Women, the companion book to Turner Broadcasting's three-part television series, and the children's book series Isaac Asimov's Library of the Universe.
Other notable Shock Design Books:
America 101, by Arthur Grace: Shock Design designed and produced this retrospective of renowned photographer Arthur Grace for Fall Line Press to accompany a High Museum of Art exhibit of his work. America 101 was featured on The New York Review of Books, The Huffington Post, and The New York Times Lens Blog.
Angels and Monsters: A Child's Eye View of Cancer, by Billy Howard and Lisa Murray, with a foreword by Jeff Foxworthy: This book captures what it is like to have childhood cancer from the art and words of twenty-five children. Aflac arranged for two copies of this book to be sent to every pediatric oncologist in the country.
Bottom of da Boot: Louisiana's Disappearing Coast, by Kael Alford: A photographic documentary focusing on the people and places of the disappearing communities of Isle de Jean Charles and Pointe-aux-Chenes on Louisiana's fragile coastline. Published with Fall Line Press to accompany High Museum of Art's "Picturing the South" Exhibit in 2012.
Letters from Tommy J: A Marine's Story, by Terri C. Walker: A young marine's experience in Vietnam captured in letters home over the one-year he served before being killed in action. The book won a 2011 Bronze IPPY Award.
If you would like more information please contact Laurie Shock, President, Shock Design Books at 770-312-7207, email Laurie at shockdesign(at)mindspring(dot)com, or visit http://www.ShockDesignBooks.com.