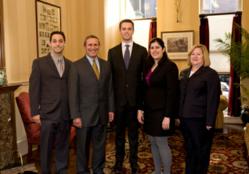 (PRWEB) June 13, 2013
The Law Firm of Pozzuolo Rodden, P.C., Philadelphia Business Attorneys, announces the release of the article " How to Negotiate Commercial Loan Documents". If you would like to read more, please read the full article and other corporate law, or estate planning topics at: http://www.pozzuolo.com
How To Negotiate Commercial Loan Documents
In the current financial environment after the recent booms and recessions of the late 1990's and 2000's, and in light of new financial regulations it can be difficult to obtain commercial loans. The following article discusses steps that can be taken to make it easier to obtain commercial and real estate financing. This involves the proper preparation, identifying the proper lending institutions, and identifying the terms that can and should be negotiated.
Types of Debt:
A borrower needs to determine what type and amount of debt it needs. There are a number of debt instruments, but the two most common are lines of credit and term loans. A line of credit is a credit arrangement in which a financial institution agrees to lend money to a business on demand up to a specified amount. A term Loan is a loan for a fixed amount that has a specified repayment schedule and a fixed or floating interest rate. Term loans almost always mature between three and ten years with a balloon principal payment.
Lines of credit provide the flexibility to draw at any time to cover fluctuating needs such as day to day working capital. The borrower can decide how much principal to pay off or increase the amount borrowed without bank intervention. The maximum borrowing base (maximum amount that can be borrowed) is normally based off of a percentage of current accounts receivable and inventory. Term loans are less flexible but allow for more stability with fixed payments throughout the term. Term Loans are usually used for long term financing for purchases or new ventures. The amounts are usually based off of the value of the collateral and/or the future cash flow of the business.
A borrower must determine which loan it desires and how much. If it is looking for stable payments to purchase property, capital improvements, machinery, or to purchase an existing business, usually a term loan is desired. If it is looking for flexibility to cover basic expenses, payrolls, or to cover working capital expenses then a line is usually desired. Most businesses combine a line of credit with a term loan...
Please read the full article "How to Negotiate Commercial Loan Documents" and other corporate law or estate planning topics at http://www.pozzuolo.com
Pozzuolo Rodden, P.C. provides specialized cost-effective legal services to privately held business owners and high-net-worth clients in Pennsylvania and New Jersey in excess of 35 years.
Practice Areas:
Business planning and transaction, complex business litigation, commercial real estate and development, construction law and litigation, advanced estate planning and administration, tax and pension law, high profile and intricate family litigation, and employment law and litigation.
Pozzuolo Rodden, P.C.
Counselors at Law
2033 Walnut Street
Philadelphia, PA 19103
215-977-8200
http://www.pozzuolo.com