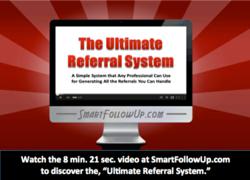 Discover how to generate all the referrals you can handle.
Houston, Texas (PRWEB) June 12, 2013
SmartFollowUp.com is proud to announce the "SmartFollowUp Referral System." Professionals, such as realtors, mortgage brokers, insurance agents and chiropractors all fuel their business through word-of-mouth referrals. The SmartFollowUp Referral System speeds the word-of-mouth referral process up by using a unique stay-in-touch method that builds relationships of trust with their customers and potential referral partners.
The SmartFollowUp Referral System is based on the premise that relationships are built with consistent, positive communications. The SmartFollowUp Referral System uses greeting card "follow up campaigns" as it's primary communications vehicle. Each month a greeting card is sent to a customer or referral partner to remind that person that they are important and appreciated. Periodically, "referral greeting cards" are sent to ask customers if they would remember the professional when talking to their friends. This method builds long-term relationships that turn into a consistent, word-of-mouth referral stream for the professional.
The SmartFollowUp Referral System automates the sending of each greeting card so that it becomes a fully automated system for the professional. After they set the SmartFollowUp Referral System up, it runs on it's own, on autopilot, without any manual intervention, leaving the professional time to serve their clients.
The SmartFollowUp.com site contains an 8 ½ minute video that explains the methodology of the SmartFollowUp Referral System. This video gives a brief, but full explanation of how the system works and the engine that powers the process.
The SmartFollowUp Referral Systems currently has greeting card campaigns that serve eight professions, (1) realtors, (2) mortgage brokers, (3) dentists, (4) carpet cleaners, (5) accountants, (6) chiropractors, (7) attorneys and (8) insurance agents. They also include eight generic follow up campaigns that can be used by any business to achieve similar results.
For more information on the SmartFollowUp Referral System, interested parties may visit http://www.SmartFollowUp.com.
Alternatively, they can be contacted directly via telephone at 281-846-5532. With their headquarters in Friendswood, TX, SmartFollowUp prides itself on supporting the local economy and working on ways to encourage others to do the same. Contact Info: David Frey 306 W. Edgewood Dr. Suite F Friendswood, Texas 77546 (281) 846-5532 david(at)marketingbestpractices(dot)com