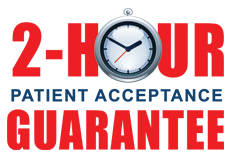 Altamonte Springs, FL (PRWEB) June 12, 2013
The 2-Hour Patient Acceptance Guarantee program from BioPlus Specialty Pharmacy (BioPlus), one of the nation's leading specialty pharmacies, streamlines the treatment process for both patients and providers. This program, which launched on April 1, 2013, guarantees notification to physician offices in less than two hours whether their referred patients can be admitted pending insurance qualifications or are non-admitted and triaged to another pharmacy.
"Now that our program is up and running, response from prescribing physicians and patients has been overwhelmingly positive; the benefits to both prescribers and patients was just what we hoped for when we designed this program," shares Elvin Montanez, Pharm.D., Senior Vice President at BioPlus.
BioPlus raises the bar for the entire specialty pharmacy industry with this program. "BioPlus collapses the wait time for patients and their doctors from days down to a mere two hours. Last week, our internal tracking confirmed how we are saving time for prescribers and patients, with 98 percent of our referrals meeting our two hour guarantee for processing," says BioPlus' Senior Director of Admissions, Amanda Brown. "Before we started our 2-Hour program, this sort of turnaround was simply unheard of – we're proud to be touching lives and encouraging this type of meaningful change for patients," she adds.
BioPlus pairs this 2-Hour program with a community partnering "Pay It Forward" campaign. For every referral exceeding two hours, BioPlus makes a donation in the physician's name to a non-profit patient foundation; a smaller donation is still made for every referral processed within the guaranteed time. The non-profit patient foundations benefiting from Pay It Forward include the Patient Access Network (PAN) Foundation, the Chronic Disease Fund, and CancerCare.
"BioPlus is a wonderful supporter of the work we do at Patient Access Network Foundation, both through patient referrals and now through the new Pay it Forward campaign," says Korab Zuka, Vice President of External Relations & Patient Services at the PAN Foundation. "Through funds donated by the Pay it Forward campaign, PAN will help an even greater number of patients who would otherwise be unable to afford their specialty medications."
In addition to donating to patient foundations, BioPlus connects patients, as needed, to these foundations through our Patient Foundation Assistance program. Last year, we successfully linked BioPlus patients to $5.1 million in foundation grants and co-pay assistance to help cover their high co-pays and deductibles. BioPlus staff does far more than simply provide patients with the phone numbers for these various foundations; they process the funding foundation paperwork for patients. Each patient also receives continued assistance for grant renewals to ensure uninterrupted treatment.
About BioPlus Specialty Pharmacy
BioPlus is a pharmacist-owned, URAC accredited, national specialty infusion pharmacy providing high-touch services and specialty pharmaceuticals for patients with chronic diseases such as hepatitis, bleeding disorders, immune deficiencies, neuromuscular disorders, cancer, and other conditions. Licensed in all 50 states, BioPlus is one of the nation's largest independent specialty pharmacies. Accredited by VIPPS, Accreditation Commission for Health Care (ACHC), and the Community Health Accreditation Program (CHAP), patients can contact the Pharmacy toll free at 1-888-514-8082.
For information: http://www.bioplusrx.com or
Contact: info(at)bioplusrx(dot)com
Phone: 1-888-292-0744
###