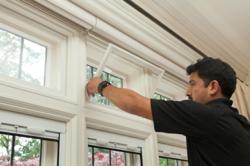 "In the United States, buildings consume nearly 50 percent of our energy, and we need to do what we can to reduce consumption in our homes," Governor Kitzhaber
Portland, Ore. (PRWEB) June 13, 2013
Neil Kelly Company, the largest remodeler and residential energy contractor in the Northwest, announced a partnership with the State of Oregon to undertake energy upgrades at the Oregon Governor's residence in Mahonia Hall, in Salem.
Energy upgrades: unglamorous, but effective
The recently completed work includes measures that provide greater energy savings, noise protection, and comfort. The work was performed at no cost to the state. Neil Kelly's Home Performance team installed fiberglass insulation in targeted areas of the home, provided air sealing throughout the building where there are air leaks to the outdoors, replaced incandescent lighting with LED lighting, and installed press-in interior storm windows from award-winning Portland start-up Indow Windows.
"It's important to remember that much of what it takes to create more comfort and energy savings on older historic homes is typically 'unglamorous' features such as insulation and air sealing," said Chad Ruhoff, manager, Neil Kelly Home Performance. "Additionally, replacement of historic windows is often not an affordable option, so that's where press-in interior storm windows such as Indow Windows can help block drafts and noise while maintaining the look of the older window."
"These are necessary and valuable improvements to Mahonia Hall," said Governor Kitzhaber. "In the United States, buildings consume nearly 50 percent of our energy, and we need to do what we can to reduce consumption in our homes. The benefit is that these improvements not only save energy, they also make our homes more comfortable as a result."
Oregonians now eligible for free home audits
In Oregon, homeowners are eligible for free energy audits through Clean Energy Works Oregon as well as rebates of up to $2,000 on energy upgrades, and no-money-down financing. Homeowners must be at least 18 years old and have single family detached homes built before 1993.
About Neil Kelly
The Neil Kelly Company helps Northwest homeowners care for all aspects of their homes. Services include award-winning design-build remodeling; energy upgrades including solar installation; and home repairs big and small. Established in 1947, the firm has a national reputation for its innovative design-build remodeling and new home construction. With five Pacific Northwest locations, in Portland, Lake Oswego, Eugene, Bend and Seattle, Neil Kelly is renowned for its innovative design and remodeling services, quality craftsmanship, and sustainable building practices. Homeowners are invited to attend a free educational seminar to learn more. For information visit http://www.neilkelly.com.