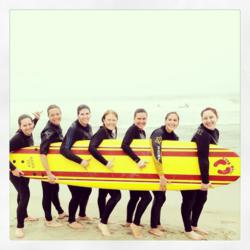 LOS ANGELES, CA (PRWEB) June 13, 2013
More than 40 professional bloggers from around the country spent four days at the Jersey Shore this past weekend to spread the message that the Jersey Shore is back and open for business despite the devastating effects of Superstorm Sandy, while supporting some hard-hit areas and families in New Jersey.
The Social Media For Social Good group created and used the hashtag #JerseyLove to share their unique experiences through real-time messages on several social media platforms including Twitter, Instagram and Facebook, as well as through their own business and personal blogs.
"The most important thing we are telling people is to support the #JerseyLove movement by visiting the New Jersey beaches this summer. They are open, all of the businesses are open and everyone needs your support," said Natalie Klein, Strategy and Marketing Chair, along with Dawn Sandomeno who added, "Donations can still be made to the displaced families by visiting Belmar.com."
Despite Tropical Storm Andrea, the bloggers spent the day at the Belmar beach town to celebrate its remarkable recovery, with festivities led by Belmar Mayor Matt Doherty. The bloggers also worked with D6 Sports to launch its innovative skimboard, the D6 SurfSkimmer, and also took surf lessons on their soon-to-be released Hang Ten surfboards. With help from D6 Sports, the #JerseyLove bloggers made a donation of $5k to Belmar Relief and Recovery Foundation.
"I am a New Jersey native, so it was very important for me to get our company involved with the #JerseyLove event to promote tourism and get people back to the beach through social good," said Ben Young, Vice President of Creative and Marketing for D6 Sports. "We happened to be launching a brand new product, the D6 SurfSkimmer, as well as debuting our soon-to-be released Hang Ten hard goods so there was a natural connection. Along with Eastern Lines Surf Shop, we hosted free surf lessons for the moms while their kids tried out the SurfSkimmer. The event was fantastic, and the reach was incredible. It's amazing how social media can bring necessary attention to important causes."
In addition, Caesars Entertainment, the largest casino entertainment company in the world, graciously hosted the group in Atlantic City, where the bloggers shared a taste of the city's famous food, wine and fun through the #DOAC hashtag. Caesar's treated the women to a Welcome Dinner at top rated Mia's, to a Taste of AC Dinner at The Loft, and Dancing at the Pool After Dark, both at Harrah's Resort.
"It was a pleasure hosting such an influential group of women at Caesars last weekend. We are so appreciative and thankful that they chose to stay in Atlantic City to help us raise awareness of our area after a challenging year," said Katie Dougherty and Jerry Eisenband, spokespeople for Caesars Entertainment Atlantic City."We know many of the women traveled far and wide to be here, everywhere from Nevada and Colorado to Texas and Oklahoma, to draw attention to the resilience and remarkable beauty of the New Jersey Shore, particularly Atlantic City and its surrounding neighborhoods. We are optimistic that the shore will continue to receive a great amount of first-time guests and repeat visitors throughout the summer season," they said.
The results were extremely impressive: the group has reached more than five million people and generated more than 80 million impressions on Twitter through 6,000-plus tweets and more than 3,000 Instagram images. Millions more from across the nation will read stories on the group's 40+ personal and business blogs and those they write for, such as Disney's Babble and AETN Television's Lifetime Moms.
To make a donation to support the displaced families of Belmar who still need assistance, please visit: Belmar Relief.
XXX
About Social Media Moms
We are a united group of mothers who utilize social media. We blog, we tweet, we host web shows, create conferences, speak on our passions and teach our children the value of social media. We adhere to standards of professionalism because we believe in excellence and transparency as a way of life. We are thousands in numbers and can be found all over the world. We hold different religious beliefs, personal beliefs and were all raised to be unique individuals. We have very diverse gifts. We each use different methods of parenting, just as we uniquely utilize social media. However, we commonly hold a passion for social media and motherhood. These are the ties that bind us. We are mothers, we are pioneers and we are sisters.
About New Jersey Digital Moms
"NJ Digital Moms" is a network of mothers who are strong business leaders in the state of New Jersey. "NJ Digital Mom" members are on the forefront of social media trends and have some of the most prestigious companies, well read blogs, and deeply rooted business knowledge that the Garden State has to offer.
About Caesars Entertainment Corporation
Caesars Entertainment Corporation is the world's most geographically diversified casino-entertainment company. Since its beginning in Reno, Nevada, more than 75 years ago, Caesars has grown through development of new resorts, expansions and acquisitions, and now operates casinos on four continents. The company's resorts operate primarily under the Harrah's®, Caesars® and Horseshoe® brand names. Caesars also owns the World Series of Poker® and the London Clubs International family of casinos. Caesars Entertainment is focused on building loyalty and value with its guests through a unique combination of great service, excellent products, unsurpassed distribution, operational excellence and technology leadership. Caesars is committed to environmental sustainability and energy conservation and recognizes the importance of being a responsible steward of the environment. For more information, please visit [http://www.caesars.com.
About D6 Sports
Established in 2006, D6 Sports is a distributor and manufacturer of sporting goods focusing on the action sports and wheeled categories. With offices in Los Angeles, Costa Mesa, Dallas, Toronto, Hong Kong and Atlanta, D6 Sports licenses brands such as Shaun White Supply Co., Hang Ten, Airwalk, Zoo York and Flameboy vs. Wet Willy, among others. For more information, please visit: http://d6sports.com