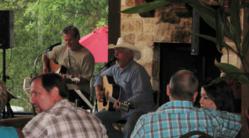 According to Mill Creek Ranch Resort Director of Sales, Stacy Crossley, "The Creek is a great environment and offers a lot of fun and entertainment. People love to come to beautiful Mill Creek Ranch Resorts and enjoy a fun night out at The Creek."
Canton, TX (PRWEB) June 11, 2013
Mill Creek Ranch Resort has announced their June music line-up. The upscale camping resort offers live local bands and music every Friday night at The Creek inside the Grand Lodge.
The June line-up includes The FM 19 Back Porch Band on June 14, Ben Lowrey & Wes Hendrix on June 21 and David Bradshaw & Joel Marsh on June 28. Bands typically play covers of favorite bands or groups, as well as original songs.
According to Mill Creek Ranch Resort Director of Sales, Stacy Crossley, "The Creek is a great environment and offers a lot of fun and entertainment. People love to come to beautiful Mill Creek Ranch Resorts and enjoy a fun night out at The Creek."
The Creek at Mill Creek Ranch Resort is both open to guests, as well as open to the public. They offer one of the few full cocktail venues in Van Zandt County. They also offer comfort cuisine with an East Texas flair, according to Crossley. Atmosphere and dress are casual.
Mill Creek Ranch Resort offers East Texas' best destination resort with 200 acres of land. The Resort offers something for everyone, including stocked fishing ponds, designer swimming pools, volleyball, fenced in playgrounds, paddle boats, disc golf and so much more. On site is a convenient store for guests to gather necessary and gift items.
To learn more about Mill Creek Ranch Resort availability, accommodations, or available specials, visit http://www.millcreekranchresort.com or call (866) 488-6020. For information about cottage ownership, contact Stacy Crossley at (903) 567-6020.
Notes to Editors:
Mill Creek Ranch Resort works with Osky Blue on their web and marketing development. To learn more about Texas Biz Solutions visit http://www.OskyBlue.com.