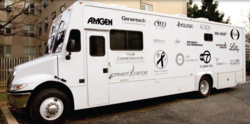 (PRWEB) June 12, 2013
As part of the Sheehy 5000, an annual 50-day campaign to raise money and awareness of breast cancer, Sheehy Auto Stores will cover the full cost for mammogram screenings for up to 20 women in-need and/or without insurance at Sheehy Volkswagen at 6601 Backlick Road in Springfield, Virginia on Thursday, June 20 from 9 a.m. to 1 p.m.
Advance appointments are required. To schedule, call Sentara at 703-523-1560.
To be eligible, women must be over the age of 35; have not had a mammogram in 12 months; have not been previously treated for breast cancer or have knowledge of existing lumps; not have any or a history of any serious breast problems; and have NO accepted health insurance coverage.
In its 16th year, the goal of the Sheehy 5000 is to sell 5000 cars in 50 days among all Sheehy dealerships with a portion of all sales benefiting breast cancer research, awareness and treatment. This year, Sheehy anticipates its cumulative donations to reach $1 million.
For more information, visit http://www.sheehy.com/mammovan
About Sheehy Auto Stores, Inc.
Sheehy Auto Stores began in 1965 as a small, suburban, family-owned Ford dealership just off the brand new Washington, D.C. Beltway. Because of customer response to their innovative approaches, Sheehy was immediately successful and by 1975 had become the largest Ford dealership in the country. Today, the company is still primarily family-owned and has grown to more than $900 Million in sales with nearly 30,000 vehicle sales per year. Sheehy's 16 locations and 21 import and domestic brands serve customers in the Baltimore, Annapolis, Richmond and Washington, D.C. metropolitan areas.