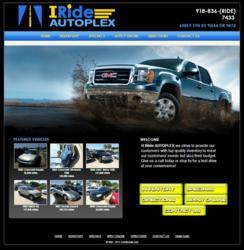 Sioux Falls, SD (PRWEB) June 11, 2013
Carsforsale.com is proud to launch an automotive dealership website for new client IRide Autoplex in Tulsa. The new website is only a part of an offering of marketing solutions to amplify IRide Autoplex's brand visibility online. Carsforsale.com also offers inventory, data distribution and online media solutions to help the dealership reach new customers and maximize their inventory exposure.
IRide Autoplex's new website includes: a full dealer site targeted to their specific market, a mobile dealer website, optimized vehicle videos and integrated social media applications and site links. Carsforsale.com will help maximize inventory exposure with an eBay posting tool, Ad Template Builder, and optimized inventory listings on regional Carsforsale.com sites.
With millions of consumer searches each month, Carsforsale.com's inventory site offers IRide Autoplex great lead potential to a nationwide car buying community. IRide Autoplex will also be a part of Carsforsale.com's exclusive automotive partnership with Tulsa, Oklahoma Freeclassifieds.com, where vehicle inventories will be posted for an even stronger consumer reach.
Sean Coffman of Carsforsale.com states, "We are confident that our dealer websites and our mobile dealer websites can connect local and regional car buyers with IRide Autoplex."
About IRide Autoplex:
IRide Autoplex is located in Tulsa, Oklahoma.
About Carsforsale.com:
Carsforsale.com created in 1999, is one of the fastest growing and most popular auto classified websites. Carsforsale.com offers a fast and effective way to connect buyers with sellers of used cars. Carsforsale.com reaches millions of unique visitors each month and is a privately held company. Carsforsale.com provides a full suite of services for the dealer including websites, inventory management, ad posting tools, lead management, printable features, mobile applications & sites, reporting & statistics and more.
###