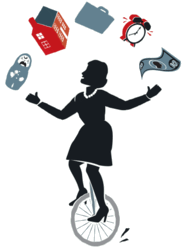 Morristown, New Jersey (PRWEB) June 18, 2013
Since 1998 Lucid Marketing in Allentown, NJ, has been bringing their expertise of marketing to moms to a diverse client base that includes Disney, Boiron and American Bronzing. Recently the owner, Kevin Burke, found a new passion in the holistic health arena and simultaneously, 8fold Integrated Creative Works, a marketing firm located in Morristown, NJ, was looking to expand into the moms market. 8fold recognized that moms were controlling most consumer purchases and clients needed help engaging with them. Lucid had the assets 8fold was looking for and so a deal was struck.
When referring to the firm taking over the marketing mom reigns from Lucid, Burke noted, "8fold is run by Jennifer LoBianco, who I've known for over a decade, and her partner, Brad Leszczynski. They are a pair of dynamic marketers with a strong team and notable client experience."
8fold currently services a diverse client base of both regional and national business-to-consumer and business-to-business players, but now has expertise, credibility and resources for producing marketing to moms programs, such as a dedicated mom blogger database and other powerful tools.
"We are a marketing firm with a diverse skill set of both the strategic and execution kind already, but applying Lucid's resources with our traditional expertise brings a whole new level of thinking to both existing and new clients," said LoBianco.
For more information about 8fold's Lucid Marketing to Moms, visit http://www.8foldworks.com/mom-marketing.