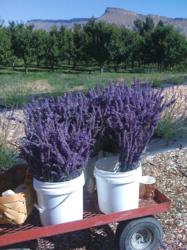 The climate in western Colorado provides optimal growing conditions for lavender, according to Susan Metzger with the Lavender Association of Western Colorado
Grand Junction, CO (PRWEB) June 13, 2013
The 3rd Annual Lavender Festival will take place July 12-14, 2013 in the western Colorado town of Palisade.
Hosted by the Lavender Association of Western Colorado, the event will include self-guided and guided lavender field tours to visit Palisade and Paonia growers in bloom season and a lavender distillation on Friday and Sunday. The Saturday Festival in the Park will feature workshops, seminars and question-and-answer sessions on topics ranging from starting a lavender farm to lavender growing tips, history, uses and cooking. An expert from Colorado State University Extension will present lavender research project highlights and a lecture on local growing information.
Attendees can take part in a hands-on demonstration in lavender aromatherapy, essential oil usage and crafts. The event also will include live entertainment, music, food and retail vendors with lavender-inspired merchandise.
The climate in western Colorado provides optimal growing conditions for lavender, according to Susan Metzger with the Lavender Association of Western Colorado. Two types of lavender – English lavender and French lavender – grow particularly well in the state and are widely used in a wide variety of culinary, medicinal and aromatherapy.
Tickets for the event are available at http://www.coloradolavender.org.

Friday and Sunday full-day guided motor coach farm tour tickets are $90/person.
Saturday full-day pre-purchases (prior to July 6) seminar tickets are $30/person for the morning season and $20/person for the afternoon session.
Saturday Festival in the Park is free.
New this year – Saturday evening Feast in the Field $100/person
Palisade is located just east of Grand Junction in far western Colorado, along the I-70 corridor. Grand Junction is situated 244 miles from Denver and 284 miles from Salt Lake City.
About Grand Junction (http://www.visitgrandjunction.com)
Nestled near 11,000-foot Grand Mesa and the 7,500-foot Book Cliffs, Grand Junction is the largest city in western Colorado. At an altitude of 4,586 feet, warm summers and moderate spring, fall and winter seasons allow for year-round golf, hiking and biking. Boasting more than 275 days of sunshine annually, Grand Junction recently was named one of the eight sunniest cities in the United States by TourismReview.com. Among Grand Junction's spectacular red cliffs and winding canyons are the Grand Mesa, the world's largest flat-topped mountain, the Colorado National Monument, Bookcliff Wild Horse Area, two national scenic byways and five golf courses. Grand Junction lies in the heart of the Colorado-Utah Dinosaur Diamond. The area also is home to Colorado's wine country, with nearly 30 vineyards and wineries.