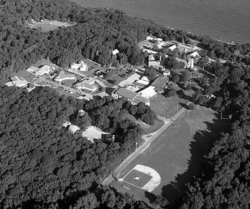 "I live with kids my own age, who have become my friends and my family."
Wading River, NY (PRWEB) June 13, 2013
Little Flower's Residential Treatment Center in Wading River is designed as a therapeutic community based on the belief that a "healthy community" helps people to heal. The youth living on campus have been diagnosed with a variety of developmental and emotional needs and are served by staff that includes mental health, childcare and social workers, educators, medical professionals and a recreation therapist. Each child receives an array of treatment services and programs depending on their individual needs.
The young people reside in one of seven modern, well-designed cottages, each featuring individual rooms, spacious common areas, a large dining room and kitchen. Recreation opportunities abound, with outdoor basketball and handball courts, athletic fields, rope course, and an outdoor swimming pool.
The Little Flower Open House is an opportunity to meet staff, tour the facility and see first-hand the significant work and care that is being given to those living on campus.
For over 80 years Little Flower has been guided by the mission to provide hope and help to thousands of people every year. In 2012 alone the agency managed the successful adoption of 59 children into new families, served 1,531 children in loving foster families, cared for 148 children in the Residential Treatment and Respite Centers, helped 259 children return to their own families, assisted 55 young adults to begin life on their own, and helped 201 adults with developmental disabilities to lead more rewarding lives.