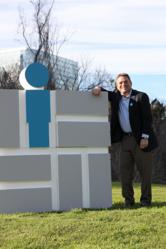 I am absolutely driven to work with [young entrepreneurs]; helping them realize their dreams and take those first steps toward making them happen.
Houston, TX (PRWEB) June 13, 2013
Texas entrepreneur, Iscential CEO and past member of Texas A&M's famed 12th Man Kickoff team, Warren Barhorst, has been a frequent guest on KGCP Internet Radio's Sunday morning program, "Bring On Success". As the owner of the largest Nationwide Insurance agency in the U.S, Barhorst discusses his real-life experience as an entrepreneur, gives relatable tips, and answers questions from the audience.
"The radio station's website highlights the following quote by Albert Achweitzer: 'Do something for somebody every day for which you do not get paid,'" says Barhorst. "That is my passion. I love talking about building business with entrepreneurs at every stage. But the young ones, the ones just starting out… I am absolutely driven to work with them; helping them realize their dreams and take those first steps toward making them happen."
Barhorst is the founder and CEO of Iscential (formerly the Barhorst Insurance Group), a Texas-based risk management and insurance firm. In 20 years, Iscential has grown from zero clients to more than 60,000 lines in force, from two employees to over 100 employees, and from one location in Jersey Village to 24 across the state of Texas. Barhorst's passion for educating and mentoring frequently has him presenting from coast to coast: from fourth-grade classrooms to executive boardrooms, he is driven to educate others about how to make wise choices that will positively impact their financial future. In 2008, Barhorst penned a book on entrepreneurship titled 'Game Plan: The Definitive Playbook for Starting or Growing Your Business'. In it, he delves into the power of dreaming and working toward fulfilling those dreams.
The "Bring On Success" platform helps its listeners connect and share success stories with other people around the world. Barhorst is one of many from all parts of business to take to the airwaves to share business wisdom and help others live their dream. Hosted by Jim Klauck, the show runs every Sunday morning from 11:00 am to 12:00 pm CST.
KGCP Internet Radio
http://www.kgcpradio.com
Bring On Success Radio
Sunday mornings, 11:00 am – 12:00 pm CST
Podcasts are available for 24/7 listening:
http://www.kgcpradio.com/release/bringonsuccess/
http://www.kgcpradio.com/category/archives/bringonsuccessradio/
About Iscential
Iscential provides a full range of risk management, insurance and financial services for families and businesses, including: auto, motorcycle, boat, homeowners, life, farm, flood, commercial, Texas Workers Compensation, administrative services, annuities, mortgages, mutual funds, pensions, long-term savings plans and health and productivity services.
For more information, call 713.856.5533 or visit iscential.com.