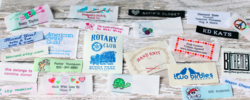 Deena S. states,"I love these labels! I have used these for many, many different products that I make. I place my labels on my items and I am proud to use these! I have ordered them several times and am ordering them again!"
Atlanta, GA (PRWEB) June 12, 2013
Name Maker Inc, established as one of the first personalized clothing label manufacturers in 1938, sells a large variety of labels which include both printed and woven options on various materials like cotton, taffeta, satin, nylon and polyester. This enables the company to be a convenient one-stop shop for customers like a busy mom in need of both woven labels for her company as well as identification labels for her children attending daycare or school. Clients span across the spectrum from crafters who can order 20 personalized tags for their sewing and knitting projects to clothing designers who need 50,000 apparel labels for their products. "Name Maker's customers rely on our large range of options, the quality of our products and customer service, as well as convenience," says CEO, Cheryl Dorrell. "Whether our customer is a startup business, an established brand, a crafter or a family in need of labeling solutions, we can meet the needs of each with our variety of clothing labels."
For 75 years, Name Maker has continued to produce their labels with the same nine-step manufacturing process. Using indelible fabric inks, iron on bonding that stays on, and other high quality fabrics and materials, the company will not compromise or cut corners. This commitment to quality has helped contribute to the longevity of Name Maker's products. Customers are able to save both time and money by purchasing labels that will last the life of their garments and items.
Deena S. states "I love these labels! I have used these for many, many different products that I make. I place my labels on my items and I am proud to use these! I have ordered them several times and am ordering them again!" And M. Washington from Shreveport, LA says, "I received the labels today, and they're perfect! I really love the way they look. My daughter is starting Pre-K and I wanted to label her clothes but I didn't want to use a permanent marker. I really love the product and will be ordering more in the future."
In honor of the 75th anniversary celebration, Name Maker's e-commerce site will offer a free silk pouch with label purchase so customers can have an attractive and efficient place to store their clothing labels.
About Name Maker:
Family owned since 1938, Name Maker has stayed current and relevant by offering personalized labels for companies looking to brand their products, sewers, knitters and crafters who want to label their handmade items and busy families trying to keep track of their children's clothing and belongings. With a large selection of woven, printed, sew on and iron on labels, customers can find any solution for their labeling needs. Featured in national magazines, blogs, newspapers and television, they have celebrity clientele including Dakota Fanning, Julia Roberts, Oprah Winfrey and Martha Stewart. Name Maker's personalized product line has grown to feature additional items such as personalized ribbons, waterproof stickers, address and gift stickers and personalized gift wrap which received the Best New Product Award at The National Stationery Show in New York. Name Maker's labels and other personalized products can be viewed and customized online at http://www.namemaker.com.