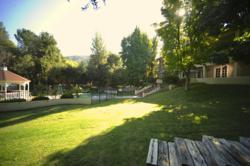 Los Angeles, CA, June 12, 2013 (PRWEB) June 18, 2013
Prominence Treatment Center, located in Malibu Hills, CA is sharing their rehab expertise through the facility's blog. Their latest post, Alcohol Abuse Vs. Alcoholism, highlights an important difference that not many people understand…you can abuse alcohol but not be an alcoholic.
Prominence Treatment Center states the main difference between the two definitions is that an alcohol abuser has the ability to set limits. Their drinking is still dangerous and self-destructive, but at some point, they can make themselves stop. Individuals who suffer from alcoholism cannot.
The significance of this slight difference in definition is this; people who are alcohol abusers tend to believe that they don't have an alcohol problem. They are usually very high functioning, even very successful by anyone's standards. This is dangerous because alcohol abusers have a high probability of turning into full-blown alcoholics, but lack the desire to seek help because they don't see negative repercussions for their actions.
By educating people that alcohol abuse is different than alcoholism and still dangerous, Prominence Treatment Center is opening doors for individuals who might not have known they were at risk for alcoholism.
Prominence Treatment Center urges anyone who feels that they might drink alcohol in excess despite their successes, to answer these five questions. If any of these answers are "Yes," the individual should take the time to seek a professional opinion.

Are you repeatedly neglecting your home, work or school responsibilities?
Have you used alcohol in situations where it could pose physical danger?
Has your drinking gotten you into legal trouble?
Are you experiencing difficulties in a relationship(s) with family and friends due to alcohol?
Do you use drinking alcohol as a way to unwind and reduce stress?
---
Prominence Treatment Center is a luxury, private drug and alcohol residential rehabilitation program located in Malibu, California. Prominence Treatment Center offers Non-12 Step treatment to its clients.
Through the Non-12 Step process, Prominence Treatment Center takes a holistic approach to healing for each individual. Every treatment program is tailored to the individual to:
Address underlying issues
Provide the highest level of care and comfort
Change individuals' thought process and behaviors
Eliminate addiction for the long term