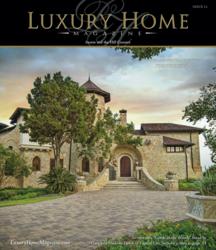 We are excited to bring Austin's most luxurious homes to mailboxes across Austin and the Hill Country
(PRWEB) June 12, 2013
Austin, Texas: Sunshine Publications, Inc., publishers of Luxury Home Magazine are proud to announce the newest addition to the Luxury Home Magazine brand: The premiere issue of Luxury Home Magazine Austin & The Hill Country.
Luxury Home Magazine (LHM) is the leader in the market specific presentation of luxury homes and the luxury lifestyle and has been delivering powerful results since 2001. Often referred to as a "Coffee Table Magazine", LHM features exceptional homes currently offered for purchase in select markets across North America. Luxury Home Magazine's bi-monthly, targeted delivery to the wealthiest and most affluent buyers and sellers of luxury real estate provides a solid source of qualified leads for its advertisers. Luxury Home Magazine operates one of the most viewed websites offering luxury homes for sale and has a powerful connection to multiple social media outlets.
Tomas and Christina Martinez, Publishers of LHM Austin & The Hill Country, bring a wealth of experience to the table along with an incredible passion to see the Austin luxury real estate market reach new heights. Following their success of Luxury Home Magazine of Greater San Antonio since August 2011, Tomas and Christina are delighted to bring LHM to the Austin & Hill Country market. Prior to joining LHM, Tomas and Christina were well respected Realtors® with a passion for luxury home sales. Together, they offer over 10 years of experience marketing fine properties. Their knowledge of real estate marketing and understanding the subtleties of the local market will be a true asset to their clients.
"Before we started San Antonio, we knew Austin would be perfect for a luxury real estate publication. We are excited to bring Austin's most luxurious homes to mailboxes across Austin and the Hill Country. Luxury Home Magazine has the ability to provide agents as well as businesses with quality leads, while branding themselves in the luxury community," said Tomas.
The premiere issue debuted in May and has been received with great anticipation. The feature cover property is represented by Gary and Michelle Dolch of Capital City Sotheby's International Realty. This magnificent one-of-a-kind castle is located in the Barton Creek community nestled in the wooded Hill Country, just minutes from downtown Austin. The premiere issue will be filled with Austin's most regarded Realtors representing the most luxurious homes for sale. Information on advertising can be obtained be emailing info(at)lhmaustin(dot)com
Luxury Home Magazine is a division of LHM Media Group, a brand publication of Sunshine Publications, Inc. online magazine content and more corporate information can be found at http://www.luxuryhomemagazine.com. Follow Luxury Home Magazine on their blog, facebook and twitter (@luxuryhomemag) for constant updates on the latest in luxury real estate.