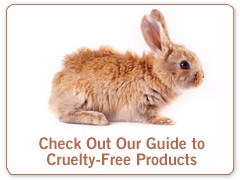 Beauty doesn't have to cost an animal it's life!
(PRWEB) June 12, 2013
Many of the products families use everyday are still being tested on animals. Cosmetics like toothpaste and mascara are characteristically tested on rabbits and guinea pigs. Luckily, times are changing and numerous companies are turning to humane alternatives in order to become cruelty-free products.
The good news is that there are a large amount of cosmetic and hair-care lines that produce products that are not tested on animals. TheBeautyPlace.com wants to give tribute to a few brands that PETA named cruelty-free. There are many cosmetic companies that are able to meet all of the cosmetic world's demands yet do not test their products on animals. They offer a variety of eye shadow colors, bronzers, mascaras etc. that are all stamped safe and cruelty-free.
There are many ways to test products without the use of animals. Animal testing in cosmetics involves testing either a finished product or the individual ingredients of a finished product on animals. In many cases, the products or ingredients are applied to the mucous membranes of the animals including eyes, nose, and mouth to determine whether they cause allergic or other reactions. Brands like Bosley, Nioxin, Rusk and Tan Towel are all brands that should be noticed for powering against the fight of animal cruelty.
There are other avenues to gain the same results. For instance, Re-using existing test data obtained from previous animal testing is generally not considered to be cosmetic testing on animals. Contrary to popular idea, non-animal methods usually are less time consuming than the rough archaic animal tests that they replace. They also cost only a small part of what animal experiments cost and are increasingly more effective because the results are not affected by species differences; Which when comparing experimental conclusions to humans makes applying the test results s difficult or impossible.
There are efficient, inexpensive, and humane research methods. Just to name a few are in vitro, genomic, and computer-modeling techniques as well as studies of human populations, volunteers, and patients.