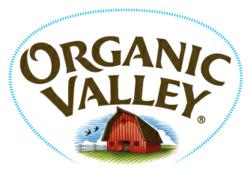 'I want to continue to push the limits of sustainable agriculture and set the standard for farmers to come,' says Choiniere.
La Farge, WI (PRWEB) June 11, 2013
Organic Valley today announced that Vermont farmer-owner Mathieu (Matt) J. Choiniere of Highgate Center, Vt., was awarded a $10,000 Sustainable Agriculture Scholarship from Annie's Homegrown, Inc.
For more than 20 years, Annie's has cultivated a "healthier and happier world by spreading goodness through nourishing foods, honest words, and conduct that is considerate and forever kind to the planet." Since 2012, Annie's has worked to perpetuate these beliefs by supporting young leaders in sustainable agriculture who wish to pursue graduate and undergraduate studies in the field. This year, 16 individuals were chosen to receive the Annie's Sustainable Agriculture Scholarship, from Vermont to California. Matt Choiniere, a 4th generation farmer, was one of 8 individuals to receive the highest honor.
The Choiniere family has been producing milk for Organic Valley since 2005. Nestled in a small town near the Canadian border, Matt, with his sister and parents, produce milk, eggs, beef and vegetables on over 200 acres of rugged farmland. Matt is a devoted student, gifted athlete, and an integral member of the family farm, where he contributes to daily chores in the barn, repairs and maintains farm machinery, and manages The Choiniere Family Farm website. Matt will be attending Morrisville State College as a rising freshmen in Fall 2013, where he hopes to obtain an associate's degree in Agricultural Business Management with a concentration in marketing.
Matt's desire to continue working on the farm and his commitment to creating more sustainable farm operations made him an easy choice for the Annie's Homegrown Sustainable Agriculture Scholarship. His ambition and resourcefulness shine in the mission statement that he submitted to Annie's:
"My vision of the successful future farmer is one who will educate the consumer as well as supply them directly with their products, but also the byproducts of their cash crop (such as bull calves, heat from milk, fallow grass in buffer strips, and manure), into a value added product," says Choiniere. "I want to continue to push the limits of sustainable agriculture and set the standard for farmers to come."
The future is bright for this young farmer, and Organic Valley is proud to recognize him for his accomplishments and the contributions that he has already made to improve our cooperative.
Organic Valley: Independent and Farmer-Owned
Organic Valley is America's largest cooperative of organic farmers and one of the nation's leading organic brands. Organized in 1988, it represents 1,834 farmers in 35 states and three Canadian provinces, and achieved $860 million in 2012 sales. Focused on its founding mission of saving family farms through organic farming, Organic Valley produces a variety of organic foods, including organic milk, soy, cheese, butter, spreads, creams, eggs, produce and juice, which are sold in supermarkets, natural foods stores and food cooperatives nationwide. With its regional model, milk is produced, bottled and distributed right in the region where it is farmed to ensure fewer miles from farm to table and to support our local economies. For further information and to learn about Organic Valley's 25 years of sustainable agriculture as it celebrates its anniversary in 2013, visit http://www.organicvalley.coop. Organic Valley is also on Twitter @OrganicValley and Facebook http://www.facebook.com/OrganicValley.