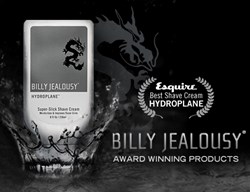 Toronto, Canada (PRWEB) June 12, 2013
Fendrihan has once again expanded its product lineup with choice selections from Billy Jealousy, a manufacturer that specializes in putting out fashionable but nonetheless practical personal care products. At current time, Fendrihan has introduced eleven products from the US-based manufacturer to its catalogue, ranging from wet shaving to hair care and skin care. Each product has been chosen not only because of its excellence, but also how well it fits with the rest of the products that Fendrihan offers to its clientele.
Having been founded in 2004, Billy Jealousy has made enormous strides practicing simple but successful strategies. Its products help their users paint portraits of casual ease, while retaining a provocative edge meant to both challenge and excite in equal measure. At the same time, the American manufacturer formulates its products to be cosmeceutical, meaning that their usage helps to nourish the skin and contributes essential nutrients to its lasting health. It is this potent concern for both fashion and health that has made Billy Jealousy an international success in cities as diverse as London and Singapore.
Similar to the introduction of other brands to Fendrihan's lineup, the addition of Billy Jealousy is meant to make shopping for men's grooming products ever more convenient for the Canadian retailer's customers. Although the Billy Jealousy products recently included retread familiar ground for Fendrihan, their presence provides increased choice for men in need of personal care products that are a cut above the competition. Customers can expect Fendrihan to continue adding more exciting brands to its selection in the future, incorporating products that fall under both old and new categories.
About Fendrihan:
Fendrihan might be focused on providing products used for men's wet shaving, but it has long since branched out into other items of interest to the same clientele. In recent times, a series of introductions has seen its selection expand to include more personal care products, fine writing instruments, European leather accessories, and even a superb collection of kitchen knives from the famous Japanese manufacturer, KIYA. However, despite these introductions, Fendrihan remains the premier Canadian online retailer of shaving products, boasting a comprehensive selection featuring some of the most famous names in the business plus rare and hard-to-find products from manufacturers all around the globe.