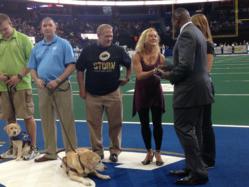 (PRWEB) June 15, 2013
Companies can now involve supporters in charitable giving decisions, promote favorite charities and increase social media engagement -- creating a community win:win:win.
Lots of companies make charitable contributions each year, with varying methods of determining where to allocate the funds. A new Facebook app called CharityVote allows companies to involve customers and other Facebook fans in these decisions. Companies determine the amount to donate and create a contest involving five favorite charities. Facebook fans then vote on which charity should receive the money, with each receiving a portion of the donations. Since fans have to "like" the company page in order to vote, the app increases the company's social media reach.
"It's kind of like a feel good app," says Charise Strandberg, social media marketing manager for Celestar Corporation, the app's creator. "The fans of the brand feel good about voting, and have a say-so in which charity actually wins."
The app provides the added benefit of increasing exposure for the charities in the contest as well as creating a community spirit, or giving network, for the company and its supporters.
The first organization to use the app was the Tampa Bay Storm. Fans selected between three charities during a weeklong contest: Southeastern Guide Dogs, Exalted Warrior Foundation and Warriors in Action. All three charities attended a Tampa Bay Storm game, where the funds were distributed to the winner, Southeastern Guide Dogs.
Whereas other charity apps are focused on individuals donating directly to the charities, CharityVote is also unique because it can be used by any company or brand.
Writer: Megan Hendricks
Source: Charise Strandberg, Celestar Corporation