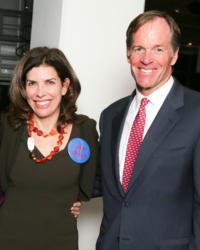 New York, NY (PRWEB) June 14, 2013
On June 5, the Lower East Side Tenement Museum celebrated its 25th anniversary and the 150th anniversary of its historic landmark tenement at 97 Orchard Street with an extraordinary gala event that immersed guests in the vibrant culture of the Lower East Side. The event raised more than $700,000, nearly double the amount raised at the previous gala. Guests explored a "living timeline" featuring photography, games, whiskey tastings, palm readings, pushcart shopping and more. Food, beverages and silent auction items were provided by more than forty local businesses, including Russ & Daughters, Economy Candy, the Pickle Guys, DiPalo's Fine Foods and Top Hops. Costumed interpreters portraying past residents of 97 Orchard Street interacted with guests.
The gala event honored Peter Ward, President of the Hotel Trade Council, and Julie Menin, Former Chair of Community Board 1, for their support of the Museum and the City at large. Mr. Ward was presented with the America's Heritage Award, and Ms. Menin with the Urban Pioneer Award. The evening also featured live musical performances and a recorded greeting from New York City Mayor Michael Bloomberg.
Attendees included Tom Secunda, Founding Partner and Vice Chairman, Bloomberg LP, Charles Zegar and Duncan MacMillan, co-Founders, Bloomberg LP, Julie Menin, Former Chair of New York City Community Board 1 and Paul J. Massey, Jr.,Tenement Museum Board Chair and CEO, Massey Knakal Realty Services.
About the Lower East Side Tenement Museum:
The Lower East Side Tenement Museum, founded in 1988, is located in a landmarked tenement building at 97 Orchard Street. Anchored in a neighborhood that has long been home to thousands of poor and working class people, the Tenement Museum is dedicated to using the history of its site as a tool for addressing issues that are still pressing today, including immigration. http://www.tenement.org/