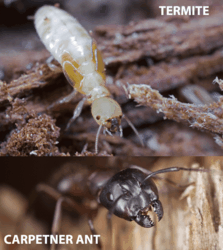 "Different pests have different hatch cycles," says Chafe. "Insects such as ants and termites are just about impossible to control on your own."
Kennewick, WA (PRWEB) June 13, 2013
It's common knowledge that having bugs inside a home can be annoying and irritating. But some indoor pests can also cause costly damage to a house. The experts at Senske Pest Control say spring is the time for many of these insects to reproduce, especially carpenter ants and termites. Senske Pest Control Vice President, Gene Chafe explains, "In some of our locations – particularly in Spokane, Coeur d'Alene and Salt Lake City - we've experienced a spike in both termite and carpenter ant swarms in just the past week."
A few preventive measures can help to keep insects from setting up camp in your house. For example, sealing outside cracks and keeping tree branches 18" away from the house can keep some bugs out. But once a homeowner sees what may appear to be "flying ants" around the house, it's time to call in reinforcements and seek professional guidance.
Carpenter ants and termites are especially troubling pests because of the amount of damage they can do to wood and cellulose parts of a house. Carpenter ant infestations are often a sign of underlying structural problems such as rot or water damage, since they generally attack areas that are already weakened. At this time of year, when both termites and carpenter ants are swarming, it can be difficult for homeowners to differentiate between the two without professional help.
Senske's residential pest control service, for example, treats the problem inside and out. Technicians apply a treatment around the perimeter of the home or business, and again to the interior if necessary.
A seasoned professional in pest control can ensure you never have to worry about the upcoming hatches of pests. To protect your property from termite or carpenter ant infestation, Senske Pest Control offers a no-obligation treatment inspection.