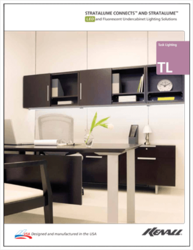 As LEDs evolve, we continuously research and develop ways to apply the latest technology to our products to meet, and even exceed, industry standards. Jim Hawkins, President
(PRWEB) June 13, 2013
Kenall Manufacturing, a leading provider of commercial lighting solutions, utilizes the latest LED technology in its new Stratalume Connects™ and Stratalume™ LED undercabinet fixtures to deliver high quality task illumination, enhanced performance with longer lamp life and additional cost- and energy-savings. Quick and easy connectivity adds flexibility by creating continuous rows with a clean, attractive appearance.
"Our linear task lighting is designed with quality, versatility and reliability in mind," says Jim Hawkins, Kenall president and CEO. "As LEDs evolve, we continuously research and develop ways to apply the latest technology to our products to meet, and even exceed, industry standards. As an early adopter of solid state lighting, Kenall has incorporated LED technology into many of our fixtures including linear task lighting."
Kenall's latest undercabinet fixtures are featured in the new Stratalume Connects™, Stratalume™ LED and Fluorescent Undercabinet Lighting Solutions brochure. Featured products include:

Stratalume Connects Architectural Undercabinet – solid- or luminous-front DR acrylic lensing provides superior task illumination. External mounting feet allow ease of installation without accessing internal compartments. The fixture features a durable extruded, marine-grade aluminum housing, yet is aesthetically pleasing for even the most upscale architectural setting.
Stratalume Connects Medical Undercabinet – includes all the benefits of the architectural undercabinet fixture, with the addition of a standard antimicrobial finish and an NSF2 listing to withstand rigorous cleaning protocols.
Stratalume MRI Undercabinet LED – provides high task illumination, enabling an MRI staff to perform imaging procedures with ease. The fixture's non-ferrous, solid front design provides sharp cutoff distribution ideal for workstations in the MRI suite.
Stratalume – fluorescent fixtures with flush end mounting outperforms the commodity lighting fixtures typically applied to millwork, soffit and undercounter office applications. Housing constructed from durable, cold rolled- or stainless-steel.
Stratalume Connects options include custom or standard colors, integral occupancy sensors, dimming ballasts, convenience outlets and rocker switches.
For additional information on the Kenall family of products, visit us on the web at http://www.kenall.com, or contact us by phone at (847) 360-8200.
About Kenall Manufacturing
Celebrating 50 years of lighting innovation, Kenall Lighting, located in Gurnee, IL, produces and supports high quality and durable lighting solutions for the most demanding environments. Since its inception in 1963, Kenall has been known for superior quality, exceptional value, and durable solutions, and it is proud to provide sealed lighting for containment or clean spaces, security lighting for detention facilities, and specialized healthcare and transportation applications. Kenall products are manufactured in the USA and meet the guidelines established under the Buy American Act and the North American Free Trade Agreement. For additional information, visit http://www.kenall.com.