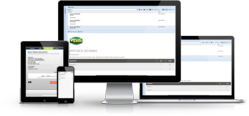 As a Chamber, we continuously innovate and accept change to stay relevant and maximize value to our members
Visalia, California (PRWEB) June 19, 2013
The Visalia Chamber of Commerce is pleased to announce new online payment options for membership packages and events.
The internet-based program is hosted by BillPay Solutions, LLC (BillPay) - a leading innovator of payment and program acceptance and processing solutions.
The new payment options will help lower cost by eliminating paper, printing, direct mailing and unnecessary gateway fees and set-up costs that are associated with online payments.
Online payments will also meet compliance with the Payment Card Industry Data Security Standards (PCI DSS) by defending against cyber assaults and threats, including:

antivirus management,
vulnerability scanning,
a secure audit trail,
and resource tracking
along with round-the-clock technical support by comprehensively trained BillPay staff to maximize uptime and availability and enhance security.
Businesses in Visalia can now join or renew their memberships instantly via email invoices and can safely make payments directly on the Chamber's website.
"As a Chamber, we continuously innovate and accept change to stay relevant and maximize value to our members," said Glenn Morris, President/CEO, Visalia Chamber of Commerce. "Our new payment options will lower operational costs and improve our membership experience and business environment."
"We are excited to extend our value proposition of payment processing and merchant services to our own local Visalia Chamber of Commerce," said Josue Orozco, CEO and Founder of BillPay Solutions. "We're helping them fine-tune online payments to their specific needs and also helping them provide members with the essential tools they need to thrive in today's economy."
For questions or concerns regarding the new online payment options, members can contact the Chamber at (559) 734-5876 ext 20.
About The Visalia Chamber of Commerce
The Visalia Chamber of Commerce is the largest business organization in Tulare County. Its members include small businesses, corporations, associations, and individual professionals. Since 1899, the Chamber has worked diligently with local government, education, private industry and host of other agencies and organizations to improve the business environment and promote Visalia as a premier community in which to live, work, and do business. For more information about the Chamber, visit visaliachamber.org.
About BillPay Solutions, LLC
BillPay Solutions is making it easier for businesses of any size to accept all major credit cards, electronic checks, and recurring payments through a wide range of customizing options. The company is quickly transforming how B2B companies accept online payments and is recognized for its professional expertise in payment solutions by Fortune 500 companies. For more information about BillPay Solutions, please visit billpaysolutions.com.