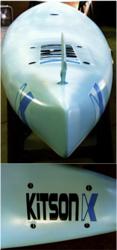 The festivities are set for Friday, June 14th at 3 p.m. and requires an RSVP for all those expecting to attend
Olympia, WA (PRWEB) June 13, 2013
The U.S.A.-based manufacturer of carbon fiber paddle boards and surfboards, Kitson Boards, Inc., has reached a milestone.
The City of Olympia is issued their building permit and now work can begin on their new facility renovations. Within a few months, the company plans to create more high-quality jobs to the local Olympia, Washington area, as the new space will increase production significantly.
"We want to share this moment with all those who have been so supportive to our growth, with a short photo op and dedication ceremony at our new Swantown Building," said Kitson Boards President, Michael Kitson.
"None of this would have been possible without the support of Port of Olympia Commissioners and Representatives, Washington Business Bank Representatives, Olympia City Council members and Planning Department representatives, Swantown LLC, Rants Group, Littlefield, Siminski & Co., Jon Graves Architects, The Olympian, ROXXY Radio, MIXX96 and of course all employees and shareholders of Kitson Boards," said Kitson.
The festivities are set for Friday, June 14th at 3 p.m. and requires an RSVP for all those expecting to attend.
Kitson Boards, Inc. is the sister company of AmazingUniverse.com Inc. which is responsible for Wine Rack Store.com and was founded by Michael and Denise Kitson. The Kitson Boards, Inc. headquarters is located in Olympia, WA. All boards are crafted out of the ultra durable and long lasting carbon fiber material. All production of surfboards, paddle boards and wakesurf boards, as well as the people behind the brand are based in North America and is the only board producer to do so. Kitson Boards prides itself on outstanding customer service and only the finest in recreational boarding and accessories. Free shipping is available throughout the continental USA.