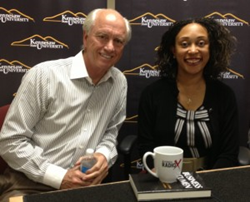 Leadership is a conversation
Atlanta, GA (PRWEB) June 12, 2013
On June 7, 2013, host Alvin Miles of Global Leader Radio™ on Business RadioX®, was joined in the studio by Pat Pittard with Patrick Pittard Advisors and Sharon Simpson Joseph with youthSpark to discuss mobilizing leadership to spark a non-profit movement.
Pat Pittard is Founder and Chairman of Patrick Pittard Advisors, a human capital advisory firm focusing on C-level leadership services including executive search, talent assessment, talent audits, and human capital consulting. Pittard is the retired CEO and Chairman of Heidrick & Struggles International, Inc., and the former Founder, Chairman and CEO of ACT Bridge, Inc. Pittard has appeared on multiple business broadcast media, such as CNN, MSNBC and Power Lunch, and he is often quoted in the Wall Street Journal, Fortune, and BusinessWeek, as well as many international publications.
Sharon Simpson Joseph is the Executive Director of youthSpark, Inc., a non-profit organization with the mission to Ignite Justice. Inspire Change. She leads a group of collaborators who are committed to growing the new youthSpark movement – to help create a world where the inherent "spark" present in all children is given the opportunity to shine.
Pittard and Joseph shared their passion and experiences as they discussed how to identify leadership strengths and apply them to the benefit of society. They each described how to spark change, give back and make a difference in the world. Said Pittard, "Leadership is a conversation." Joseph stressed key strengths for leaders, remembering that "leading is not always about being in front" and "a strong leader always leads leaders."
To learn more about mobilizing leadership, listen to the complete interview on Global Leader Radio™.
About Global Leader Radio™
http://globalleaderradio.businessradiox.com/
Global Leader Radio™ airs Tuesdays at 2:30 p.m. Eastern on Business RadioX® and features conversations with those responsible for cultivating high potential leadership in corporate, entrepreneurial and not-for-profit organizations. Host Alvin Miles and his guests discuss Ideas that Matter With People Who Care℠ with a particular focus on those individuals and organizations doing an exemplary job of identifying, attracting, developing and retaining high potential talent.
Global Leader Radio™ is brought to you by the award-winning Executive MBA Program (EMBA) at the Michael J. Coles College of Business.
About Business RadioX®:
Business RadioX® provides a turnkey solution for business owners who want to leverage the power of internet radio to meet their best prospects, establish credibility for their organization and heighten the placement of their brand in search engines rankings. With a professional venue and a proven formula, Business RadioX® helps hosts podcast their shows and create a regular stream of dynamic content to share with their prospects and feed the search engines every week. Programs are recorded and streamed live to the internet from our studios in the greater Atlanta area. For more information or to hear a live show, visit: http://www.businessradiox.com.