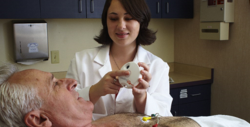 "Spaulding Clinical and Medidata continue to drive new levels of productivity in clinical research with cloud-based technology."
West Bend, WI (PRWEB) June 12, 2013
"Spaulding Clinical is focused on solutions that deliver speed, unprecedented quality and lower drug development costs. The integration that we offer with Medidata Solutions delivers on this for our clients with the added-value of immediate access to 12-lead electrocardiogram (ECG) interpretations, measurements, and waveforms, in the Medidata Rave system," states Daniel Selness, General Manager and Sr. Vice President, Clinical Research for Spaulding Clinical.
"Spaulding Clinical and Medidata continue to drive new levels of productivity in clinical research with cloud-based technology, first with the integration of Spaulding's clinical pharmacology data with Medidata Rave, and now with the integration of their cardiac safety clinical data," states Glen de Vries, president of Medidata Solutions. "Our collaboration will benefit both sponsors and CROs who are looking for innovative solutions that drive quality up and costs down."
"This seamless interface demonstrates the power of interoperable systems built on open standards. Through the Medidata Rave Web Services API, Medidata has enabled Spaulding Clinical to integrate its cardiac safety solution with the Medidata platform, providing a consistent user experience, resulting in higher quality study data for sponsors," states Brock Heinz, Innovation Leader for Spaulding Clinical.
Spaulding Clinical has been recognized by Medidata Solutions as a Medidata Technology Partner since 2010, after leveraging Medidata Web Services application programming interfaces (APIs) to enable automatic study data transfer from the Spaulding Clinical Phase I EDC system to Rave. Spaulding Clinical pioneered the first fully electronic integration of Phase I study data directly into Medidata Rave, removing human data transcription errors and demonstrating significant cost and time savings.
Spaulding Clinical will be demonstrating their solutions at both the Medidata booth (#805) and Spaulding booth (#2203) at the DIA meeting, June 24-26th in Boston. Visit Spauldingclinical.com to view Spaulding's quality metrics.
About Spaulding Clinical Research, LLC
Spaulding Clinical Research LLC, a change agent in the clinical research and medical device industries, is focused on driving perpetual value for its clients through technology and process innovation that delivers speed, unprecedented quality and lower costs.
Spaulding Clinical Research operates a 105-bed clinical pharmacology unit with 96, 12-lead ECG, telemetry beds in West Bend, Wisconsin, USA. The facility is paperless, using a customized Phase I Electronic Data Capture system with bi-directional interfaces to clinical lab, bedside devices and telemetry. Spaulding Biometrics provides full-service biostatistics, data management and medical writing services.
As a Phase I-IV centralized cardiac safety provider, Spaulding Clinical offers project management, expert cardiologist ECG over-read and a complete suite of state-of-the-art equipment provisioning, including the cloud-based Spaulding webECGTM Management Solution with the purpose-built Spaulding Model 1000iQ Electrocardiograph.
About Medidata Solutions
Medidata Solutions is the leading global provider of cloud-based solutions for clinical research in life sciences, transforming clinical development through its advanced applications and intelligent data analytics. The Medidata Clinical Cloud™ brings new levels of productivity and quality to the clinical testing of promising medical treatments, from study design and planning through execution, management and reporting. We are committed to advancing the competitive and scientific goals of global customers, which include over 90% of the top 25 global pharmaceutical companies; innovative biotech, diagnostic and device firms; leading academic medical centers; and contract research organizations.