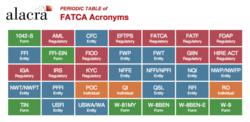 With all the talk about getting ready for the Foreign Account Tax Compliance Act (FATCA), we thought it might help everyone if we had a single resource for alphabet soup surrounding the new law
New York, NY (PRWEB) June 21, 2013
Alacra, Inc., a leading provider of business information solutions for financial institutions and professional service firms announced the release of "The Periodic Table of FATCA Acronyms."
"With all the talk about getting ready for the Foreign Account Tax Compliance Act (FATCA), we thought it might help everyone if we had a single resource for alphabet soup surrounding the new law," said Alacra CEO Steven Goldstein.
Financial institutions affected by FATCA are asking for the inclusion of FATCA client classification information in their onboarding workflow. Although the main FATCA challenge is in classifying existing customers (which may number in the tens or hundreds of thousands at some banks) classifying new customers at the time of onboarding is critical enhancement to the KYC workflow.
"With the deadline for IRS compliance approaching on January 1, 2014, there is still a great deal of confusion among financial institutions. We thought we would help organize the many terms being used to help our colleagues around the world," said Steve Goldstein, CEO of Alacra. "More and more customers are coming to us to request help adding FATCA identification processes to their Know Your Customer onboarding process. FATCA is just the latest requirement for identifying potential tax evaders at multinational financial institutions and similar laws are planned in Europe and Asia."
The Alacra Compliance team understands the difficult workflow decisions financial firms are facing with multiple jurisdictions, reporting requirements, and KYC initiatives. Alacra works closely with clients and the industry to help everyone make FATCA compliance robust and easy to add to existing processes.
To view the Alacra Periodic Table of FATCA Acronyms visit: http://www.alacra.com/fatca-acronyms-periodic-table. To learn more about Alacra Compliance Enterprise, visit http://www.alacra.com/compliance-solutions or call Alacra at 1‐212‐363‐9620.
About Alacra, Inc.
Alacra develops workflow applications that enable 300,000 end users at 400 financial institutions, professional services firms and corporations to search for, extract, and analyze mission-critical business information. Alacra's mission is to aggregate, integrate, package and deliver business and financial content in ways that are most useful to our clients, which include nine of the top 10 global investment banks, all four major accounting firms, and nine of the top 10 consulting firms.