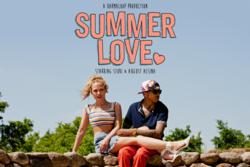 We're thrilled to have STORi and August Alsina featured in this lookbook for summer 2013
Boston, MA (PRWEB) June 12, 2013
Karmaloop, the leading online retailer of urban fashion and streetwear, today announced the release of its latest lookbook, "Summer Love, starring STORi and August Alsina." The lookbook features New Jersey singer/songwriter STORi and New Orleans R&B singer August Alsina in looks from some of Karmaloop's top brands, including Crooks & Castles, 10 Deep, Jeffrey Campbell, Unif, Tripp NYC and many others.
"We're thrilled to have STORi and August Alsina featured in this lookbook for summer 2013," said Karmaloop founder and president Greg Selkoe. "STORi just signed a deal with Motown and August released his first mix tape this year. The lookbook features these hot young artists on the streets of New York, rocking the latest summer looks from Diamond Supply Co., RVCA, WeSC, Cheap Monday, Obey and other top labels. Fans of Karmaloop and street fashion will definitely want to check it out."
As Motown's latest signee, STORi's edgy lyrics and rhythmic melodies easily grab the attention of any first time listener. Her music is a kaleidoscope of styles and she uses the ups and downs of her own life experiences to paint vivid emotional pictures to create some unforgettable tunes
A New Orleans native now based in Atlanta, twenty-year old August Alsina already has a lifetime of experience to fuel his music. Escaping from the drugs and violence that took several members of his family, August is focused on proving that your past doesn't have to dictate your future, and is working with Grammy-award winning singer/songwriter The Dream on his debut project for release through Radio Killa/Def Jam Imprint.
About Karmaloop.com
Karmaloop.com is the leading online retailer for global urban fashion and streetwear, with more than $130 million in annual sales. Retailing every major streetwear brand – from skatewear to hip hop styles to contemporary urban looks for women - Karmaloop receives more than 4.5 million unique visitors from 40 countries each month, and retails more than 500 brands designed for the "Verge Culture" -- a multicultural demographic that is 18 to 34 years-old and often referred to as the first generation that grew up with the Internet. Founded in 2000, the Karmaloop family of websites today includes the internet television station KarmaloopTV, the women's fashion site MissKL, the menswear boutique Boylston Trading Company, the flash-sale site PLNDR, the online skateboard retailer Brick Harbor, and the independent marketplace Kazbah.