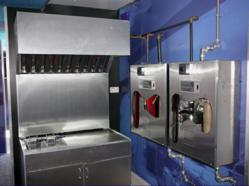 Rochester, NY (PRWEB) June 12, 2013
Leading fire safety equipment distributor, Monroe Extinguisher, is pleased to announce that they will be hosting a fire technology demonstration on Thursday, July 18 from 9 a.m. to 3 p.m. The event will feature an interactive FIRE-X-CHANGE™ exhibit trailer. Monroe welcomes current and prospective customers to come out; have some snacks or drinks and learn about the FIRE-X-CHANGE™ systems.
Ansul, Monroe's main fire extinguisher supplier, uses the FIRE-X-CHANGE™ demonstration trailer as a way to educate owners, insurers, engineers, contractors and distributors about their latest water-based and special fire hazard fire suppression products. Ansul is well known for their innovation in the industry and their quality products.
Attendees can learn about R-102™ and Piranha® restaurant fire suppression systems, DPV-1 and DV-5 valves and automatic fire suppression, Quell™ cold storage fire technology, INERGEN® and SAPPHIRE® clean agent systems, ANSUL® high expansion foam systems, Aquasonic™ water atomizing technology and ANSUL® A101/LVS twin agent vehicle systems. There are tours of the trailer ever 45 minutes.
Admission to the demonstration is free and there will be breakout sessions on the INERGEN® and SAPPHIRE® clean agent systems, Room Integrity Testing and Stainless steel custom kitchen equipment.
Join Monroe Extinguisher for this opportunity to see the latest in fire safety technology. Those interested should RSVP by July 12 with Timothy Slossar, (585) 235-3310 x604. The demonstration will be held at Monroe Extinguisher at 105 Dodge St. Rochester, N.Y. 14606.
About the company:
Monroe Extinguisher Company is the leading distributor for fire safety equipment in Western New York. Their personnel are still some of the same people that started the business with Mr. Agness back in 1972. As their Corporate Mission Statement proclaims, they strive "to be the leading high quality provider of: fire protection systems, equipment, and service in the northeastern United States." For their customers, they are committed to always meet or exceed expectations for quality, service, and delivery. For more information, please visit their website at http://www.monroeextinguisher.com.