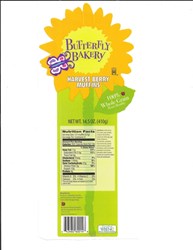 St. Augustine, FL (PRWEB) June 12, 2013
Butterfly Bakery issues allergy alert on undeclared Walnuts in 14.5 ounce Butterfly Bakery Whole Grain Harvest Berry Muffins, UPC 6 43482 60014 8.
People who have an allergy or severe sensitivity to Walnuts (a type of tree nut) run the risk of serious or life-threatening allergic reaction if they consume these products. This product has not been produced since November 26, 2012.
The product is packed in a clear clam-shell type package with a label which also serves to seal the item.
No illnesses have been reported to date.
This recall was initiated after it was discovered that the product was still available and being sold at a single Price Chopper store located in Schenectady, NY. Management had believed that there was no more of this product in circulation since it had not been produced in more than five months and there was no existing stock of the product in possession of the bakery.
At this point all of this product has been removed from the shelves and is no longer available at retail. Butterfly bakery management indicated the problem with this specific retail label was that walnuts had not been included among the ingredients. Corrective steps to prevent a re-occurrence of this type of situation have been put into place.
Consumers are urged to return the product to the place of purchase for a full refund.
Additional information is available by contacting the company at (973) 515 1501) or better to e-mail questions or concerns to qc(at)thebutterflybakery(dot)com
Label Photo of this item is attached.