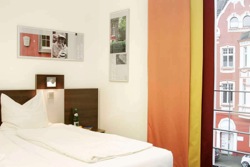 A 27% saving at one of the world's most modern hostels, DJH City Hostel Düsseldorf
Düsseldorf, Germany (PRWEB) June 13, 2013
The city of Düsseldorf is celebrating its 725th anniversary – another reason to visit one of the hottest new leisure destinations, a city that ranks no. 6 on a list of global cities in quality of life. DJH City-Hostel in Düsseldorf, one of the most modern hostels in the world, is offering an amazing city anniversary special group travel package: Visit the city this year – or reserve this year for your 2014 stay - and receive 27% off a three-night stay – just € 89 per person. Perfect for student groups or any youth group travel to Germany.
The package includes two meals (scrumptious all-you-can-eat breakfast buffet, plus lunch or dinner) and the Düsseldorf Welcome Card (free public transportation within city limits and more than 40 free or reduced admissions to city attractions). That's less than € 30 per person per day for a room, all taxes, local transportation and all other benefits of the Welcome Card.
Accommodations are at DJH's centrally located award-winning three-star hotel-level city hostel in multi-bed rooms (2-6 per room) with private bathrooms and many amenities. The hostel is a top choice for budget-conscious group and student travel organizers who seek the best quality, location, safety and service at a low price. Even Fortune 500 companies regularly use DJH City-Hostel Düsseldorf for corporate meetings and overnight stays.
Düsseldorf is one of the fastest growing leisure destinations in Germany and a must-see destination on more Germany itineraries than ever. The city is home to attractions like the Longest Bar in the World (260 bars and pubs in under a square mile), the ultra-modern Media Harbour, famous shopping boulevard Königsallee, and many world-class museums and attractions. Many more spectacular destinations await nearby: Düsseldorf is at the center of one of Europe's most thriving regions, with 18 million residents in a 60 mile radius, 53 cities, and very close to the Netherlands, Belgium, and France.
Travel to Düsseldorf from North America is easy: Düsseldorf Airport (DUS) offers non-stop flights to Atlanta, Chicago, Ft. Myers, Los Angeles, Miami, New York, Newark, and Toronto, as well as convenient connections to many European cities.
The special applies to group bookings for three nights. Additional nights are charged at regular rates. For more information on the special, visit http://en.city-hostel.de/725/.
For general information and a video about DJH City Hostel Duesseldorf and the city, visit http://city-hostel.de/dusseldorf.html.
For more information about the Düsseldorf Welcome Card: http://www.duesseldorf-tourismus.de/en/duesseldorf-welcomecard/.
To book the Special Group Package, contact the US Office of DJH City-Hostels:
Rainer Perry - Marketing & Sales Manager North America
DJH City-Hostels in Cologne & Düsseldorf
934 8th Avenue 2b; New York, NY 10019
phone: 212 957 6653
email: rainer.perry(at)djh-rheinland(dot)de
http://www.city-hostel.de
Featuring three hostels in Cologne and one in Düsseldorf, DJH City-Hostels is part of the German Youth Hostel Association Rhineland, an association of 35 hostels. A non-profit organization, DJH City-Hostels is committed to providing superior budget accommodations in the cities of Düsseldorf, Cologne, and the Rhineland region to individuals, groups, and families for business and leisure travel. For more information, visit: http://www.city-hostel.de.