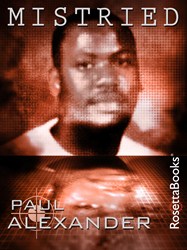 "Like the Trayvon Martin case, the prosecution of Curtis Flowers speaks to race and judicial justice in America today," said Paul Alexander.
New York, NY (PRWEB) June 13, 2013
From the author who brought you the best-selling true-crime titles Murdered, Accused and Homicidal, Paul Alexander now adds a fourth title to his True Crime Collection.
In this painstakingly researched and masterfully-written account, Mistried exposes the ugly racial divides running beneath the surface of a sleepy Southern town—and raises troubling questions about America's criminal justice system, particularly in the Deep South.
Caught between a relentless Mississippi prosecutor and the fury of both African-American and white communities in his town, Curtis Flowers has, according to Mistried, endured six separate trials over more than a decade in a case that remains undecided.[Supreme Court of Mississippi case no 2004-DP-00738-SCT]
"Mistried is another true crime story from Paul Alexander that combines gripping pace with gritty literary style, leading readers to think twice about high-profile cases and the evidence that is presented," said Arthur Klebanoff, CEO of RosettaBooks.
On July 16, 1996, the owner of Tardy's Furniture store in Winona, Mississippi, and three employees were found shot "execution-style" in the head inside the store, according to court records. In Mistried, author Paul Alexander chronicles the events that led up to the arrest of Curtis Flowers, a former employee of the furniture store, and his subsequent arrest on four counts of capital murder. Mistried provides a detailed account of the Flowers case, from three guilty convictions being overturned to two hung juries and even three death sentences, also overturned.
"Like the Trayvon Martin case, the prosecution of Curtis Flowers speaks to race and judicial justice in America today," said Paul Alexander. "As a native of Birmingham, I am aware of how far the South has come in rectifying the racial injustice of the past. I am also aware of how far it is yet to go, which was why I was drawn to write about what has happened to Curtis Flowers."
Paul Alexander's career as a journalist spans decades with articles appearing in several publications including The New York Times and Rolling Stone. He has published eight acclaimed books about the lives and careers of prominent people including James Dean, J.D. Salinger, John McCain, Karl Rove, and Sylvia Plath. For more information, visit his website http://www.paulalexanderbooks.com.
Titles in The Paul Alexander True Crime Collection, including Mistried, are available exclusively at Amazon Kindle for $2.99.
About RosettaBooks
RosettaBooks is the leading independent eBook publisher, responsible for such timeless classics as Brave New World, Slaughterhouse-Five, The 7 Habits of Highly Effective People, and the complete works of Winston Churchill. Publisher of ten Kindle Singles, including Ray Bradbury's The Playground, RosettaBooks has launched nine of them to bestseller status. For more information, please visit RosettaBooks.com and follow the e-publisher on Facebook and Twitter.
Press Contact: Navjot Khalsa I Digital Marketing Manager I nkhalsa@rosettabooks.com