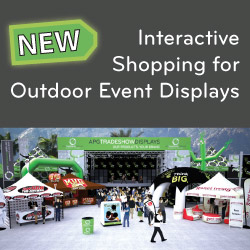 "The coolest way to shop for this years newest outdoor event displays."
GRAYSLAKE, Il (PRWEB) June 13, 2013
APG Trade Show Displays is using cutting-edge technology to create a unique online shopping experience where customers can interact with this summer's newest outdoor displays all in one place.
APG Trade Show Displays is changing the way event exhibitors shop for their summer outdoor event displays. Using new virtual event technology, customers can now see how various outdoor display products look and work together in a booth area while interacting with the image to learn more about the products shown. This new shopping feature includes images of pop up tents, feather flags, street banners and pole banners in action. APG is also adding a new line of Premium Feather Flags, Pop Up Tents and Inflatable Outdoor Displays to include in this shopping platform. Additionally, APG is debuting more than 40 new outdoor event displays on the APG site. This advancement in online shopping technology means that, instead of trying to imagine how a display area will look, customers can now see a real world example of how new inflatable event furniture will look underneath a pop up tent with feather flags on each side, and much more!
APG's interactive image technology from Thinglink creates an ease of use for customers to learn more about the summer event displays they are interested in buying. To interact with this virtual event environment, customers can move their cursor over each item to view an icon with product information. The icon shows the product name with a link to the product page on the APG website. With just a few clicks, customers can add different outdoor display components to their shopping cart and toggle back to the interactive image to see what other products might work best with the items they are already purchasing.
Many first-time event vendors struggle to create effective overall outdoor displays, having little knowledge about how these types of products look together. APG's interactive shopping environment helps new customers visualize their summer products in action, working in harmony with one another. In one interactive image, customers can see how pole banners will look on real street poles along side feather flags, pop up tents and many other outdoor display items. This new shopping platform takes the guesswork out of visualizing how the new outdoor event displays will look, giving buyers confidence that their marketing dollars will be well spent.
APG Trade Show Displays is a premier online provider of trade show displays, feather flags, pop up tents, custom banners and more. In 2009, APG Trade Show Displays opened as a sister company to Agency Promo Group as demand for signage services grew. APG Trade Show Display's mission is to provide high-quality trade show products and outstanding customer service at the guaranteed lowest prices.