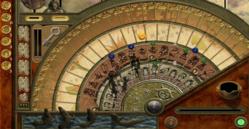 If past history was all there was to the game, the richest people would be librarians.
Warren Buffett
(PRWEB) June 13, 2013
AncestorEbooks introduces the family history game Seven Grand Steps by Mousechief, creator of Dangerous High School Girls in Trouble.  [bit.ly/1bps96p] Seven Grand Steps has just been released on June 7, 2013.
In Seven Grand Steps, there are several characters with which to interact. The game follows players from the labor class, artisans and craftsmen, noble professionals, and the ruling class as the player chooses how to follow family lore and through the various perspectives available, can see for what they are striving.
Keith Nemitz, creator of Seven Grand Steps, says that the game of Civilization 4 got him thinking about his next project. "Anyway, I got to the point where I was good enough to beat it at most levels, but the only way I could beat the higher levels was by going militaristic. That was unsatisfying to me, because I actually like to build libraries and theatres. That got me thinking, 'how would I do a Civ game that could cover the arts more interestingly?" [bit.ly/1bps96p] Seven Grand Steps is less of a game to "win" than it is a game of just trying to survive, such as the ever popular Oregon Trail. [bit.ly/1bps96p] 
Ironically Seven Grand Steps feels like a board game, when it only allows for one player. "However, Seven Grand Steps could give families the opportunity to talk about personal family history."  Says Gayla Mendenhall of AncestorEbooks, "Seven Grand Steps follows people of different classes and cultures throughout different periods of time. This would give families a wonderful opportunity to talk about their own ancestors during different times and events."
Seven Grand Steps is not the only online family history game. There is another called Family History Evening, in which players answer questions that are designed to bring friends, family, and neighbors together. [familyhistoryevening.com/] Or for a simpler game, Family Mystery: The Story of Amy, which is a game of hidden objects, where the pictures need to be completed to help Amy solve the mystery of her past.
Funium.com created its own family history game for Facebook called Family Village [bit.ly/PRCySg%5D], which had an estimated 92,000 users within 6 months. In this game, the player builds and populates the city, with the twist being that the populace are all members of the player's family tree. Creator Jeff Wells says of Family Village, "I love family history, and I spend hours doing it at night. it is a grueling process, but it is thrilling. I thought we could make it into a game." [bit.ly/PRCySg%5D]
Online games such as Seven Grand Steps is not the only choice for family history games. Hidden Genealogy Nuggets has create your own family history Word Search and Crossword Puzzles, with easy to follow instructions. The card game 6 Generations teaches how many ancestors are responsible for their heritage, culture, and history.
AncestorEbooks representative Gayla Mendenhall continues, "The importance of keeping family history modern and fun is the secret to its future. Games are an incredible way to introduce family history to children and the concepts of what genealogy means. In this digital age, it makes sense for even a hobby known for old dusty documents, to become modernized. This is done with online games, and even creating your own family ebook through AncestorEbooks.com."