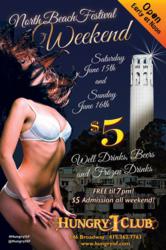 San Francisco, CA (PRWEB) June 11, 2013
Hungry I, the historic San Francisco topless club located on Broadway Street, is offering special deals on drinks and admission on Saturday, June 15 and Sunday, June 16 during the North Beach Festival.
Guests can enjoy $5 well drinks, beers and frozen drinks for the entire weekend, with free admission until 7 pm and $5 admission later on both nights. Hungry I will also be open early at noon on both Saturday and Sunday, so stop by for the best lap dance in San Francisco.
The 59th Annual North Beach Festival is one of the country's original outdoor festivals, located in one of San Francisco's most historic neighborhoods. Home of the beat generation and the city's Little Italy, North Beach also plays host to San Francisco's red-light district, featuring popular adult clubs like Hungry I.
This year, the North Beach Festival will feature "over 125 arts and crafts booth, 20 gourmet food booths, two stages of live entertainment, Italian street painting, beverage gardens, kid's chalk art area and the blessing of the animals," according to the event website.
The festival is from 10 am to 6 pm rain or shine, and Hungry I will open at noon to provide sexy entertainment for the adult crowd.
For more information about the Hungry I North Beach Festival specials, visit http://hungryisf.com/events.php or call 415-362-7763. Hungry I is located at 546 Broadway San Francisco, CA 94133.
About Hungry I
Hungry I is one of San Francisco's most historic gentlemen's clubs and is legendary for its past as a folk music and comedy club in the 1950s and 60s. These days, Hungry I is a friendly club with a party atmosphere and the best in topless entertainment! Nightly drink specials and VIP bottle service is streamlined by their friendly bar staff.
The San Francisco topless club is also well known for its talented dancers whose pole spinning game is second to none. These sexy, highly flexible babes take "Pole Antics" seriously, and so do their patrons.
Hungry I is open seven days a week from 6 pm until 2am. VIP bottle service reservations are always available by calling (415) 362-7763 or visiting hungryisf.com.