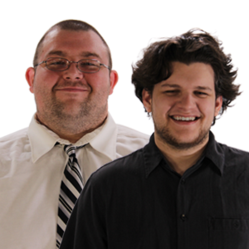 Columbus, OH (PRWEB) June 13, 2013
My Service Depot, the makers of Smart Service, know very well that keeping their customers happy is a vital part of business. At all levels of the company, My Service Depot is dedicated to making sure that the customer experience is both enjoyable and helpful. Building the company around this deeply sown ideal has reflected positively on the company since its inception. Recently, because of that dedication to ensuring that the customer experience is enjoyable, two of their own have been nominated to receive awards for excellence in customer service.
Luke Askins was nominated as a manager that works to ensure that the representatives he supervises consistently provide superior friendly service. "He gladly takes as much time as customers need to feel comfortable learning and using their new software program. He always speaks to customers with a smile. Answers questions by phone, email, chat, and voicemail." according to Columbus CEO.
Smart Service tech support rep Robert Smith was nominated as an individual who goes above and beyond his job duties to provide a unique level of service. The reason provided by Columbus CEO was that he is "always very patient with customers … he always sounds happy to help and speaks in a very approachable way to customers as not to intimidate them or make them feel silly for calling regardless of how easy their question may be."
Upon hearing two of his employees were nominated for awards due to excellence in customer service Skip Stringfield, President of My Service Depot said "I've always taken a great deal of pride in the level of customer service that everyone in my staff has consistently provided. Seeing two of our employees being recognized for their dedication to our customers is inspiring."
Smart Service the flagship product of My Service Depot, is a business management software package designed to meet the specific needs of service industry businesses, offering appointment scheduling, routing and dispatching. Smart Service is widely considered the gold standard in its role as HVAC Software as well as in many other industries. Smart Service integrates seamlessly with quickbooks and with the mobile app iFleet. Businesses utilizing Smart Service enjoy increased efficiency and productivity, while eliminating double data entry and decreasing fuel costs.