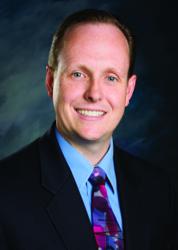 Loma Linda, Calif. (PRWEB) June 11, 2013
Dr. Robert Handysides has been appointed associate dean for academic affairs at Loma Linda University School of Dentistry. He fills a role left vacant following the appointment of Ronald Dailey, PhD, as the School's dean.
Dr. Handysides is a 1993 graduate of the School who began serving his alma mater as chair of the Department of Endodontics beginning in 2009 until his appointment as associate dean.
Prior to joining the School, Dr. Handysides maintained a solo practice in Kingston, Ontario, Canada.
Dr. Handysides and his wife, Minnie, have three daughters: Alison, Carina, and Nicole.
###
About Loma Linda University Health (LLUH)
Loma Linda University Health includes Loma Linda University's eight professional schools, Loma Linda University Medical Center's six hospitals and more than 900 faculty physicians located in the Inland Empire of Southern California. Established in 1905, LLUH is a global leader in education, research and clinical care. It offers over 100 academic programs and provides quality health care to 40,000 inpatients and 1.5 million outpatients each year. A Seventh-day Adventist organization, LLUH is a faith-based health system with a mission "to continue the teaching and healing ministry of Jesus Christ."
About Loma Linda University School of Dentistry
Loma Linda University School of Dentistry is one of 63 schools in the United States that trains students from at least 75 countries in the dental sciences. In 2011, 184 students received degrees among those offered in dentistry, dental hygiene, the International Dentistry Program and eight postgraduate programs. There were more than 118,419 patient visits in various clinics where students hone their clinical skills and prepare for board examinations. Students also volunteer for service in mobile clinics, health fairs, and community clinics. Many of the School's 113 full-time, 218 part-time, and 137 volunteering dental faculty promote global oral healthcare through international lectures and in supervising students in the Service Learning International Program.