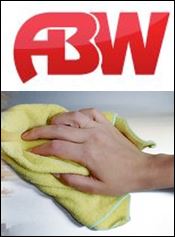 (PRWEB) June 12, 2013
A&B Wiper Supply, Inc., the long standing distributor of environmentally friendly home and industrial cleaning tools, has released their updated 2013 Microfiber Catalog. The family owned company has been supplying major industries and retail outlets with their products since 1947. Three generations later, with one of the largest inventories of terry towels and cleaning wipes available, their updated catalog features new additions to their line of microfiber products.
A&B Wiper describes their microfiber collection as "the perfect balance of economy and environment" and the "financial no brainer" green option to traditional cotton products. In general, microfiber mops eliminate bacteria up to 99% while cotton base mops only eliminate 33%. These products may also be washed up to 500 times in comparison to the 55-100 times of traditional mops, making it financially more viable for businesses. Customers looking to switch to microfiber will find the complete line available in the catalog with new items including economy cloths, dusters, mop buckets and multi-functional professional systems.
The catalog also offers customers the ability to match the correct cleaning tool to their need using the user friendly "Microfiber Application Chart". The chart allows any customer to find their market segment and match it to the product that will provide them the best performance characteristics available. The products themselves are separated into 3 application categories: "Hard Surface Cleaning & Dusting,""Wet Flooring Cleaning" and "Hardware and Dispensing." This design allows the customer to easily find the cleaning supplies their business needs without the hassle or headache of a complicated layout.
As with all A&B Wiper products, the new products in the microfiber line are part of their linen buyback program. In efforts to prevent textiles from "prematurely going to landfill," the program offers credit to facilities that recycle their linen with A&B Wiper. Additionally, this awards businesses the opportunity to part of the environmental conservation movement while saving money and time.
To learn about A&B Wiper's microfiber line, visit them at http://www.bestrags.com/blog/ab-wipers-new-microfiber-catalog-here. For more information on A&B Wiper, their other products and buyback program, please visit them at http://www.bestrags.com/.
About A&B Wiper:
With three generations of experience and research, A&B Wiper has serviced national companies, hospitals and local business with their wiping cloths and cleaning products. Believing in customer service and quality, ABW has built an industry and mark in the textile industry. Now with complete lines in microfiber clothes, terry towels and janitorial supplies, ABW continues to supply the country with all their laundry and cleaning needs.