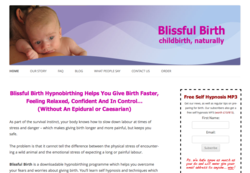 Whether my customers are royalty, celebrities or normal everyday women, the focus should be on their birth story, not the particular hypnobirthing programme they used
London, UK (PRWEB UK) 12 June 2013
In an open letter posted today, Blissful Birth have responded to speculation that the Duke and Duchess of Cambridge are thinking of using hypnobirthing techniques for the birth of their first child.
Kate Middleton, who is expecting her first child with husband Prince William in mid July, is said to have put together a birth plan for a completely natural labour, and is considering hypnobirthing while submerged in an inflatable pool filled with water.
The news has fuelled speculation over which hypnobirthing approach, if any, the Duchess will choose.
Although the word, 'hypnobirthing', is legally recognised as a generic term for any use of hypnosis during childbirth, it hasn't stopped practitioners of the various hypnobirthing approaches suggesting that their particular programme is the one being considered by the royal couple.
Some practitioners have even issued press announcements stating that they have sent their book or course to the royal couple.
Blissful Birth have hit back at the speculation, saying that if the royal couple use the Blissful Birth hypnobirthing programme, either exclusively or in conjunction with some other programme, they won't be telling anyone.
Blissful Birth spokeswoman, Heidi Woodgate, says, "Whether my customers are royalty, celebrities or normal everyday women, the focus should be on their birth story, not the particular hypnobirthing programme they used."
"Of course, I'm always thrilled when someone sends in their birth story or testimonial and gives me permission to share it, and we wouldn't still be here after 8 years online if our customers didn't tell all their friends that they used our programme. But it's their choice to share their story, not mine."
Blissful Birth is a downloadable hypnobirthing class created by husband and wife team, Rob and Heidi Woodgate. Both are Cognitive Hypnotherapists and members of the National Council for Hypnotherapy.
Research has shown that the calmer the expectant mother is, the more beneficial it is for the baby. Blissful Birth teaches expectant mothers how to stay relaxed and calm during pregnancy, labour and birth.
Blissful Birth also helps expectant mothers to understand what their body is going through and what to expect. It allows them to understand why their body is doing the things it is and helps them to keep in mind that childbirth is a natural part of life and it does not have to painful.
This programme has proven itself time and again to help expectant mothers have a natural birth experience, and it is an ideal partner to traditional antenatal classes.
Rob Woodgate is also the co-creator of the Hypnotension Programme, which helps people with high blood pressure.
The Hypnotension™ Programme looks at a variety of lifestyle factors to establish which is likely to be causing or maintaining high blood pressure (Hypertension). These lifestyle factors are then targeted using specific cognitive and hypnotherapeutic techniques to help reduce the clients blood pressure towards more normal levels.