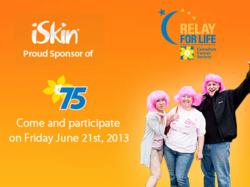 iSkin will continue sponsoring the Canadian Cancer Society Relay for Life until cancer is a thing of the past
Toronto, Ontario (PRWEB) June 12, 2013
iSkin, a premium brand of fashion and technology lifestyle accessories, announces they will be one of the sponsors for the 2013 Relay For Life in North York, Ontario. The event takes place on June 21, 2013, beginning at 7 PM and ending at 7 AM, in the Esther Shiner Stadium. Annually, iSkin has sponsored this event which offers those who wish to take part a chance to raise funds for the Canadian Cancer Society.
This overnight event is meant to signify that the fight against cancer, never sleeps. Participants are put into teams that take turns walking the track throughout the twelve hours of the event.
In 2012 the Relay for Life raised $51 million across Canada. This would not be possible without the support of sponsors such as iSkin who believe in coming together with the community to fight cancer.
Funds raised by the relay go to funding cancer research in order to find new ways to fight cancer. Funds also go into support networks so that no one who is fighting this battle has to do so alone.
"iSkin will continue sponsoring the Canadian Cancer Society Relay for Life until cancer is a thing of the past" said CEO of iSkin, Andrew Ackloo.
About iSkin Inc.
iSkin Inc. is one of the world's most trusted mobile accessory brands since its first advanced protective solution for the iPod® in 2002. Known for its cool, innovative designs and fashion-forward style, iSkin continues to be the leading mobile accessory brand. iSkin continues to focus on delivering the highest quality, innovative design and fashion-forward style in accessories for Apple®, BlackBerry® and Samsung®.
The iSkin word mark and logo are registered trademarks of iSkin Inc., registered in Canada, the United States and other countries. All Rights Reserved 2006-2013. Apple®, iPad® and iPad® mini are trademarks of Apple Inc., registered in the U.S. and other countries. Other company and product names mentioned herein are registered trademarks of their respective companies.
For further information contact:
Press(at)iSkin(dot)com
http://www.twitter.com/iSkin
http://www.facebook.com/myiSkin