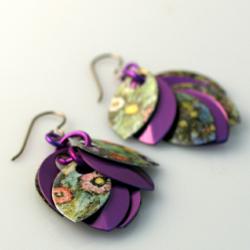 These are eye-catching adornments that celebrate color and pattern.
Chicago, Illinois (PRWEB) June 12, 2013
Award winning contemporary jewelry artist Diana Ferguson will showcase her handcrafted Petals to the Metal™ Collection in Booth 59 at the New Buffalo ARTigras Art Festival. The festival, which is organized by Amdur Productions, takes place on June 15 and 16 in downtown New Buffalo, Michigan at Whitaker and Merchant Streets and runs from 10am to 6pm both days. Booth 59 is located on Merchant Street.
Ferguson, who shows her work primarily in the Chicago area and at the Celebration of Fine Art in Scottsdale, Arizona, has been recognized for her jewelry designs in metal and paper by "Art Jewelry" and "Wirework" magazines, as well as the blog "All Things Paper."
Her Petals to the Metal™ line of earrings and pendants, which she fashions using a unique blend of polymer-infused paper and metal, are in the jewelry collections of style conscious women from New England to California to Canada and have been included in gift bags for Hollywood celebrities, including Drew Barrymore, Hayden Panettiere and Emily VanCamp.
For the New Buffalo show, Ferguson has pulled together a winning collection of designs in hues that include purple, mahogany and a stunning combination of burnt orange and navy blue.
"These are eye-catching adornments that celebrate color and pattern. They're lightweight and easy to wear and that makes them perfect for summer and all year round," said Ferguson. "I'm excited to have the opportunity to introduce my jewelry to Harbor Country residents and visitors."
For more information about Diana Ferguson Jewelry, see the Petals to the Metal™ Media Kit or visit http://www.dianafergusonjewelry.com.
About Diana Ferguson Jewelry
Diana Ferguson is an American designer/maker who's curiosity about materials and processes has led her to create jewelry adornments that stray from the traditional. The Petals to the Metal™ line merges Diana's interest in photography, digital art, chainmaille, collage and Origami with a unique paper sculpting process that she devised through trial and error in the studio.
Diana has a B.A. in Art from Northern Illinois University. She has been published twice in Art Jewelry Magazine and is looking forward to a Gallery feature in the Fall 2013 issue of Wirework Magazine.