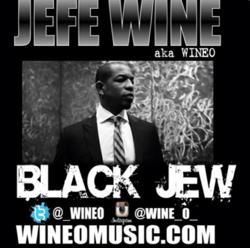 Houston, TX (PRWEB) June 12, 2013
The summer music craze kicks-off with the controversial single "Black Jew" from Houston based rap artist Jefe Wine.
When asked why Wine chose the name "Black Jew" for his first single he replied " Because it represents financial freedom, also my mom and Jewish friends call me "Black Jew" probably because I'm so tight with my money."
The single is currently getting heavy rotation on urban radio in the southern markets but soon will catch on everywhere once the video drops on MTV with a date TBA.
Over the years, Wine has released 17 albums, enjoyed major label deals with EMI and Universal Records and garnered fans at home and overseas in foreign lands of France, Germany, Japan and South America.
But after officially hanging up his microphone two years ago, the veteran rapper came out of retirement after a short hiatus in 2012 with release of his mixtape The Killing Fields.
The release jumped off with a seething diss record "Happy Birthday T.I." Aimed at Clifford Harris, Jr., the multi-platinum, self-proclaimed King of the South, the single was released on September 25, T.I.'s 31st birthday and delivered the birthday boy a present he never forget which sparked a beef.
Since then the beef has been subsided and Wine-O has now re-branded himself as Jefe Wine. With a new controversial release "Black Jew" that is currently in heavy rotation on the urban music charts, his mixtape will be released this summer with a new side to match his new persona.
About Jefe Wine:
Maurice Lasel better known by his stage names Jefe Wine, Wine-O, Nuwine, is not only a rapper but a record producer and entrepreneur as well. Best known for his 2006 Billboard Top 100 single "Pop My Trunk, Wine has worked with such major players as Mike Jones, Letoya Lucket (of Destiny's Child), Lil' Wayne and Paul Wall.
Although rapper Wine-O's debut single, "Pop My Trunk," featuring Paul Wall, may have been booming from car stereos in 2006, he was not a rookie. During the late '90s and early 2000s, Wine-O was a well-respected and prolific Christian rap artist in Texas under the rap pseudonym Nuwine.