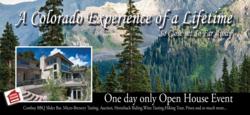 "An Open House Event is all about creating the 'Experience' for the new buyers. They want to love everything about the home, environment and the lifestyle. Part of that 'experience' is also making them feel good about purchasing the home which is exactl
Golden, CO (PRWEB) June 13, 2013
"An Open House Event is all about creating the 'Experience' for the new buyers. They want to love everything about the home, environment and the lifestyle. Part of that 'experience' is also making them feel good about purchasing the home which is exactly what happens when they know the sale also helps to support those in need." Karen Schaefer, Real Estate Marketing Expert
The problem with traditional Open Houses is that no one is willing to step out of the 'traditional real estate marketing' box. A sign in the yard and an ad in the paper no longer fills an open house, especially since so many buyers first look online. But if you deliver good marketing, an incentive, and a reason for them to show up such as an opportunity to do something good for a local charity, now you will have a 'Full House' and get it sold because nothing replaces a live experience!
As proof, Karen Schaefer, Amazon #1 Best Selling Real Estate Author, asks home sellers, real estate agents, and investors to consider these three areas before going the traditional marketing route in the hopes the home will have an onslaught of buyers flowing through the front door.

"While it's easy to spend an afternoon [online] blasting through slide show after slide show of homes for sale, photos alone don't sell homes. They can't convey how a home smells, sounds or feels — and, as anyone who has seen a room shot through a wide-angle lens knows, they can deceive." MSN Real Estate
Open house events give people a chance to browse without pressure.
"Lifestyle is what will sell the home every single time. You can only really get that by experiencing an Open House Event." Ms. Schaefer offers an example at http://www.27638MistyRoad.com/OpenHouse which will support CP CO, Cerebral Palsy of Colorado and FACES, a child abuse prevention organization.
As Karen Schaefer added, "This all new way of marketing Open Houses has gone the industry one better. Agents, sellers and buyers are now able to get everything they want from an Open House event. It attracts far more prospects, sellers have a greater opportunity for a successful sale and buyers get to find out what the home is really all about instead of just looking at a virtual tour. And when it all comes together, everyone is supporting a great cause by tying the open house event into a local charity with a silent auction, donations, or donated time.
An Open House event in Golden, CO on June 22nd, 2013 will be the perfect example of how to host an extraordinary Open House but also show how you can tie into a local charity to do something good for the community while are selling a home. It is a win-win for everyone! http://www.27638MistyRoad.com/OpenHouse
Karen Schaefer is the author of Amazon #1 best seller, 'Love Sells; How to get Every Home Buyer to Fall in Love with YOUR House,' and a trusted authority on the luxury real estate market, the creator of the Luxury Real Estate Training System for RE/MAX Europe and its 12,000 agents, real estate investing, real estate sales, real estate marketing, home staging and curb appeal. She is also the Founder of APSD, The Association of Property Scene Designers, a home staging and marketing training company in 14 countries along with being the owner of Simple Appeal Home Staging and Design. Ms. Schaefer has been featured in over 25 Major newspapers, blogs, TV Channels and press releases spanning the US, Canadian and European Markets.
Including:

Wall Street Journal
Victoria Times
More.com
Calgary Sun
RIS Media
San Francisco Chronicle
HGTV
…along with many others and has spoken in front of thousands on such topics as marketing homes for sale, massive open house events, selling vacant and distressed properties, effective home staging and curb appeal, investing in real estate and building home staging and real estate businesses.
For a complimentary Open House Marketing DVD visit http://www.27638MistyRoad.com/OpenHouse
# # #