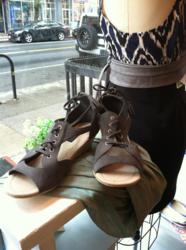 "People need to know that ethical fashion exists, that there are options out there"
Brooklyn, NEW YORK (PRWEB) June 11, 2013
Brooklyn-based designer and owner of Bhoomki boutique in Park Slope, Swati Argade has been instrumental in bringing ethical fashion to her neighborhood. In addition to carrying her own line of apparel, her shop supports NY based designers like Tara St. James of Study NY, and Francisca Pineda of Bhava.
In anticipation of an upcoming Bhava trunk show on Thursday June 13th, this article will answer a few questions about ethical fashion.
What is ethical fashion, and why is it important?
For BHAVA, being ethical starts with sourcing from suppliers who share a commitment to sustainable manufacturing. This means supporting organic farmers, natural dyes based from Ayurvedic principles, traditional arts like hand weaving, and sourcing recycled and reclaimed components. Each individual's commitment to ethical fashion is very personal. BHAVA is the realization of mutual respect for other's beliefs, this planet, and all it's inhabitants. In fact, over a year ago Francisca started the Ethical Fashion Academy just for the purpose of raising awareness and to bring the community together.
Francisca Pineda is an award winning fashion designer with over 15 years of experience designing apparel and accessories for New York's top brands. She is currently the creative director for luxury accessory brand BHAVA. An advocate for ethical practices in the industry, she started the Ethical Fashion Academy in 2012, a community focused initiative that organizes eco-fashion events in New York City and a yearly hands-on Fashion Workshop in Costa Rica. In addition, Francisca is passionate about mentoring the next generation of fashion designers and is founder of the Fashion Portfolio Academy, an online educational resource for aspiring designers.