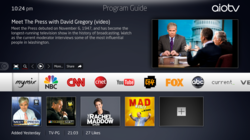 Unify core multi-channel video service, streaming and internet content into a single TV experience! stated Mike Earle, CEO aioTV
DENVER, COLORADO (PRWEB) June 13, 2013
aioTV (pronounced A-O) is a rapidly growing OTT/ IP video platform for service providers – MSOs, telcos, wireless operators, satellite providers, broadcasters and cable networks worldwide – enabling them to deliver any video content, in one spot, on any device.
"We've been working 24/7 for over 3 years building our platform, our brand and communicating our service offering to prospective customers – as a start-up you can imagine the significant time and resources invested to gain awareness in such a fast moving marketplace", said Mike Earle, CEO at aioTV.
AT&T recently launched a pre-paid consumer wireless phone offering under a confusingly similar "AIO Wireless" name.
"While we appreciate the - brand admiration, this has created quite a bit of confusion within our target audience. Executives are wondering if we are now a competitive threat to their core offering or have shifted focus as a business", added Earle.
aioTV has reached out to AT&T in an effort to avoid stalling sales momentum and to minimize confusion in the market.
Companies in discussions with aioTV can be confident that the aioTV service offering has not changed and will continue to set the standard for an OTT/ IP video user experience.
About aioTV
aioTV is a white label video platform for licensed and unlicensed content targeted at service providers worldwide to allow them to integrate multiple sources of live, on-demand and freely available video content into a unified TV experience across connected devices. The company's flagship products and cloud based management platform leverages existing infrastructure, billing platforms and DRM for a quick, seamless implementation.