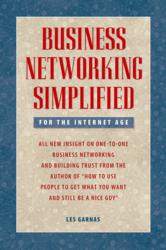 You are the boss of your life
Haverford, PA (PRWEB) June 17, 2013
Most graduates are familiar with social media. Interestingly, social media is about making connections. Often, social networkers make lasting connections that are supportive and satisfying.
In the process of trying to get a job after graduation, many grads miss the opportunity to use the inherent skills they have developed and carefully honed, to make the internet and their social networking connections work for them in getting that first job out of college (or high school). In Les Garnas' recently released book, Business Networking Simplified, (Amazon, $12.95) he carefully outlines in an easy-to-follow story-telling format, how to convert social media power into networking-for-a-job power.
Leveraging the internet helps narrow-down possible job choices.
Then, networking among peers, friends, and their friends and families to get a satisfying job can significantly help launch one's career. The techniques that Les suggests can make a difference between getting the job that is deserved, versus continuing to sit out the economic slump.
Unfortunately, job market indicators suggest that hiring is not likely to get better anytime soon. Les has carefully studied employers' actions and reactions to hiring versus not hiring, and in his book, he outlines ways that readers can make choices that are right for them. So having a plan of action in mind, along with making good choices is vital to success. Having a strategy in mind, Les suggests that graduates take charge, and become the boss of their own futures. Business Networking will show grads how, and help empower these new job seekers to succeed.