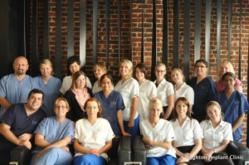 smile with confidence
Hove, East Sussex (PRWEB UK) 13 June 2013
For those with problem or missing teeth, dental implants can be an attractive solution-- dental implants offer multiple benefits to patients requiring treatment on problem or missing teeth. For one, dental implants look like natural teeth, giving implant patients a bright, sunny smile and boost in personal confidence. Many patients report improved outlooks on life and in their interactions with others post-surgery. Those are not the only benefits: dental implants also function like natural teeth, enabling patients to engage in improved eating, drinking, and speaking pre-implant treatment. They can change a person's life.
However, because dental implants are designed to last a lifetime and are very expensive, care should be taken to examine the right dental implant surgeon. Dr. Bruno Silva, Principal Dentist at East Sussex-based Brighton Implant Clinic, said patients should look for a dentist with the right qualifications, extensive experience, and who has methods for actual implant placement and safeguards against surgery setbacks, among other factors. Specifically, Dr. Silva suggests:

Assessing a dental implant surgeon's reputation for implant need assessment and diagnosis.
For optimal implant treatment, a dentist will be required to evaluate a patient's oral health and overall health. He or she also will assess the patient's jaw bone quality, facial symmetry, jaw alignment, and temporomandibular joint function. Specialized knowledge is required for effective implant placement, so the doctor will be able to evaluate a patient's teeth effectively and then craft implants that almost perfectly match the patient's natural teeth, in dimensions, function, and appearance. Ensuring a dentist has all of these criteria in line is critical.
Examining how many years of experience the surgeon has and how many implants he or she has placed. What is his or her failure rate?
A dental implant surgeon's years of experience, along with the number of dental implants he or she has placed, will be one of the most indicators as to that surgeon's effectiveness and reliability. Additionally while most dental implant surgeries are successes, with an overall rate of over 90%, more seasoned and skilled surgeons will have successful rates extremely close to 100%.To illustrate, an ideal dentist might have a decade or over of experience and have successfully placed thousands of implants in that time span. He or she will ideally have a successful case rate around 97-99% overall, too.
Noting the qualifications the surgeon has to obtain a better grasp of his or her instructional background. Is the surgeon constantly taking measures to better his or her knowledge, despite the fact he or she might have the minimum qualifications needed?
Does the surgeon have a history of seeking further professional training and instruction in his or her field, despite the fact he or she already holds the necessary certification? The best dental implant surgeons will constantly seek further training in new methods for implant surgery, as well as ways to build on top of their knowledge and experience in existing surgical methods. The place where they obtain their knowledge is an important factor, too—for instance, instructional seminars at leading global institutions in implant surgery instruction, such as the Biotechnical Institute in Vitoria, Spain and the Malo Clinic in Lisbon Portugal, will give dental implant surgeons top-of-the-industry instruction in best implant surgery practices.
Determining the reputation of the practice where the surgeon practices.
What scale of reputation does the clinic at which the surgeon practices have? Some clinics are more widely known for their expertise, friendliness, and effectiveness, sometimes on an international scale. Searching the Internet for what the public thinks of the clinic, and turning to effective sources such as online reviews, can be effective methods for discerning a surgeon's professional capability and trustworthiness.
Most importantly of all, asking the surgeon the right questions.
Ask the dental surgeon questions which reveal the above information, as well as how or she handles surgery complications, what safeguards he or she has in place against infection or other problems, what implant types he or she uses, how he or she handles restoration, and what former patients think of him or her.
Dr. Bruno Silva has successfully placed over 5,000 implants over the last seven years and completed postgraduate training with leading specialists in implant surgery in London's West End. He is a member of the Association of Dental Implantology, British Academy of Cosmetic Dentistry and the British Dental Association, and he along with the rest of Brighton Implant Clinic's surgeons are constantly enriching their background and experience in implant surgery in top-quality instructional seminars. Brighton Implant Clinic is a two-time award winner of the Private Dentistry Awards, with clinic locations in Hove, Hailsham, and Brighton. The practice treats patients from all over the UK and world, with some venturing from as far as Australia and the United States for treatment. Please visit http://www.brightonimplantclinic.co.uk/ to learn more and schedule a free initial consultation.