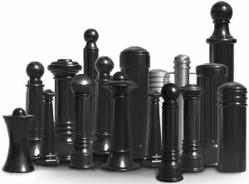 These new clearance pages will present a great opportunity for installers to source out cheap bollards and bike racks.
Vancouver, BC (PRWEB) June 12, 2013
Reliance Foundry Co. Ltd., North America's premier supplier of bollards, bike racks, and custom castings, introduced new resources today to help its customers source the lowest priced solutions for bollard and bike rack projects. Reliance Foundry will now host two clearance pages on its main website that feature discontinued, over-stocked and promotional items at incredibly reduced prices. One clearance page will display discounted bollards and the other will showcase discounted bike racks, bike bollards and bike lockers. For those projects that are restricted by a tight budget, Reliance Foundry's new clearance pages may offer the ideal solution.
"Our catalog is always evolving and quite often that will lead to a surplus or the need to discontinue less-popular items," says Reliance Foundry's Sales Manager, Rick Pasternak. "These new clearance pages will present a great opportunity for installers to source out cheap bollards and bike racks."
The new clearance pages will be hosted in the bollards product section and bike parking product section of Reliance Foundry's website. Both pages will primarily showcase discontinued and over-stocked items. Reliance Foundry promotes its products based on their sales performance and will sometimes discontinue less popular models. Many of the models found on the clearance pages have been discontinued due to their limited sales but every model that is showcased will still offer the same level of durability and aesthetic value that all of Reliance Foundry's products are known for. No bollard or bike rack offered on the clearance will feature a defect or design flaw and every discounted item will deliver the standard bollard or bike rack service life. Both of these pages will also frequently feature over-stocked and promotional products but when most items are showcased, it will present the last opportunity for purchase. Quantities will be limited but all bollards and bike racks offered on the clearance pages will be offered at lower-than-ever-before prices. The savings on some models will be offered at less than 50% of their original cost.
"If you don't have to be too picky about having bollards or bike racks match the architecture of the site, the items on the clearance pages may be ideal," says Len Cranmore, Product Manager at Reliance Foundry. "All clearance items are top-quality and they present a good opportunity to save a few dollars."
Reliance Foundry's bollards and bike racks are available in a wide range of styles and can be easily installed on most concrete surfaces. They offer exceptionally long service lives and are priced competitively. For more information on Reliance Foundry's top-quality bollards and bike racks, visit: http://www.reliance-foundry.com/. Items showcased on Reliance Foundry's clearance pages are ideal for projects where the function of the bollard or bike rack is the priority. Clearance models are offered at extremely reduced prices but will only remain available while supplies last.